a
Naval Forces News - Brazil
Brazilian Navy Inducted Into Service NDM Bahia former French LPD Siroco
By Stelios Kanavakis
On 6 April, the Brazilian Navy (Marinha do Brasil) inducted in service the former French Navy Landing Platform Dock Siroco (L9012). President Dilma Roussef and the Governor of Bahia attended the ceremony of the vessel now named Bahia. It is planned to be operational in the second semester.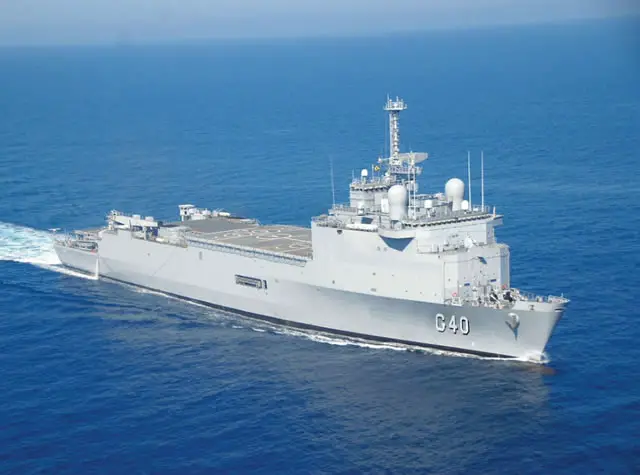 Brazilian Navy latest LPD: the NDM Bahia. Picture: Brazilian Navy

The vessel is a Foudre-class LPD, manufactured by Brest Naval Dockyard (current DCNS) commissioned in service in 1998. It was one of the two ships in the class. The first one, TCD Foudre, was sold to the Chilean Navy in 2011.

The mission with the French Navy was to land and support rapid deployment forces, including upon requirement of a mechanized regiment, provide logistical; humanitarian and medical support; command and control; counter-piracy operations, among others.

Its crew in the French Navy was comprised of 210 officers and sailors. The Brazilian Navy is planning to have a crew of 230. In addition, it could transport a landing force of 470 infantrymen with 22 armoured vehicles or up to 1,600 in humanitarian missions. The amphibious force was supported by either four Cougar-type helicopters, with two or in certain cases three of them being capable of simultaneous launch, or up to ten landing crafts.

Portugal was initially going to acquire the vessel but it decided to cancel the project, opening the way for Brazil to proceed with the procurement of "Bahia" in order to replace the former landing ship dock "Rio de Janeiro". Its first mission will be to transport the new troops that are taking part in the humanitarian mission in Haiti. The acquisition cost is estimated at EUR80 mil. paid in four years.

NDM Bahia technical characteristics:
Length: 168 m.
Beam: 23.5 m.
Draught: 5.91 m.
Total displacement: 12,037 ton.
Economic speed: 12 knots
Maximum speed: 21 knots
Maximum range at 12 knots: 13,404 n.m.
Engines (diesel): 2 x SEMT Pielstick (10,400 hp each) and 2 x Wartsilla auxiliary diesel engines for electric energy.
Armament: 2 x Simbad launchers, 3 x 20 mm guns, 4 x 12.7 mm heavy machine guns.