a
Naval Defense Industry News - USA
Raytheon's SeaRAM System Bringing Enhanced Improvements to Ships Layered Self-Defense
By Xavier Vavasseur
Last month , the US Navy
successfully tested
the SeaRAM weapon system from an Arleigh Burke class (DDG 51) destroyer for the first time. During DIMDEX 2016 maritime defense exhibition held in Qatar last week,
Navy Recognition
sat down with the Program Director at Raytheon to learn more about SeaRAM.
ATLANTIC OCEAN (March 4, 2016) SeaRAM, a new system for guided-missile destroyers, is test fired from USS Porter (DDG 78), March 4, 2016. Official U.S. Navy photo.

Asked about the main differences between SeaRAM and the legacy RAM weapon systems, Alan Davis, Program Director, Short Range Defense Systems at Raytheon explained "When you look at the SeaRAM system, it really is a marriage of the Phalanx CIWS utilizing the sensor suite of the 1B radar and we marry that up with an 11-round RAM Guide utilizing the latest version of RAM which is the Block 2 missile".

"That capability allows us to have an autonomous combat system tied into one joint SeaRAM system where you have sensors and combat system. This combination gives a very affordable and effective weapon solution without going through the entire integration of a combat system". Davis explained.

We asked if the Phalanx 1B sensor suite (search-and-track radar and Elector Optic sensors) adds more performance to the RAM Block 2 missile. Davis replied that "It is not performance driven, it is more capability driven by being able to utilize a combat system that is autonomous to the CIWS system and marrying that with the capability of RAM. The current RAM systems are utilizing Mark 49 which is tied to the ship's combat system. SeaRAM has the combat system already embedded in it utilizing the Phalanx sensor suite".

Talking about the specific case of USS Porter, the Raytheon Program Manager said "We removed the Phalanx system and installed the SeaRAM system with Block II missiles. It gives us some enhanced improvements in terms of the layered defense. Phalanx is traditionally a close in, last layer of defense system and RAM extends that capability in terms of ship self defense".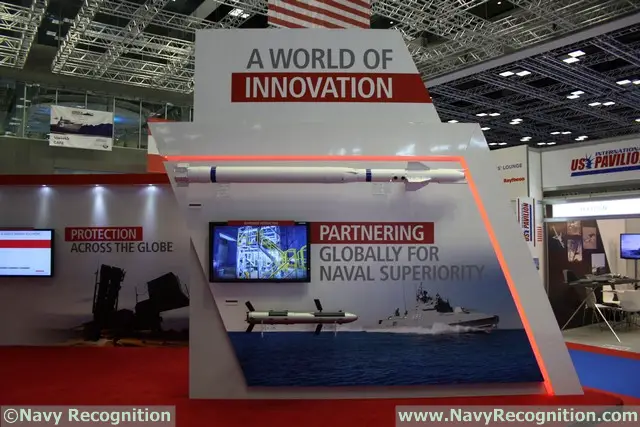 RAM Block 2 missile on display on the Raytheon stand at DIMDEX 2016

Finally Gerard Hueber (Rear Admiral, USN, Retired), VP of Business Development for Naval and Area Mission Defense at Raytheon concluded by telling us "There has been a number of forums where senior US Navy leadership have addressed the SeaRAM capability as a defensive solution that contributes to the Navy's warfighting initiative of distributed lethality. The Navy has advertised opportunities across the force from combatants to logistics and auxiliary ships that the SeaRAM capability would add to the warfighting readiness of the fleet".

In January this year, Raytheon Company's SeaRAM anti-ship missile defense system used a Rolling Airframe Missile Block 2 for the first time to intercept an incoming target during a U.S. Navy live-fire exercise at China Lake in California.

The SeaRAM system detected, tracked and engaged an inbound threat, and fired a RAM Block 2 that successfully intercepted the target. SeaRAM was configured with a nearby Phalanx Close-In Weapon System for the test, similar to the way the two systems would be deployed together on U.S. Navy destroyers.

RAM Block 2, which reached Initial Operating Capability in May, 2015, adds enhanced kinematics, an evolved radio frequency receiver and an improved control system.