a
Naval Defense Industry News - France
ECA Group Demonstrates its A9-M AUV for Mine Counter Measures Operations
In early April 2016 has been an exciting one for ECA Group teams with a demonstration of its A9-M, a man-portable AUV dedicated to mine warfare. At the request of a foreign country Navy the ECA Group team has successfully demonstrated the operational effectiveness of the A9-M for mine-warfare operations.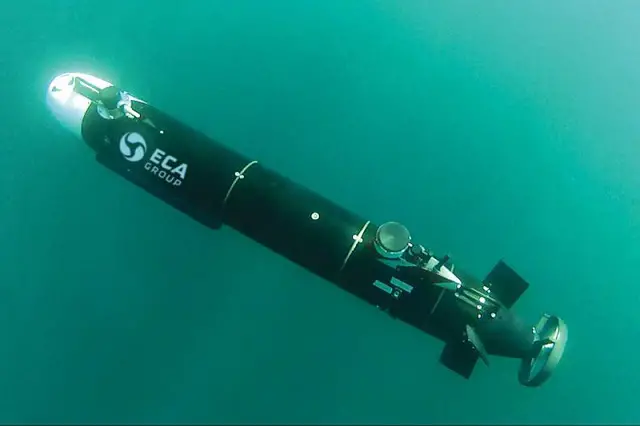 Specially designed for the French Navy clearance divers, A9-M is deployed with several navies since 2012.

During the demonstration the AUV A9-M has carried out different tasks of detection, classification and localization in order to find different dummy mines laid by the customer at unknown positions. After having successfully found those ones, ECA Group team has reported a full seafloor mapping results using Triton Imaging MCM Suite for Sea mapping and Target management.

By providing high quality of seabed imagery and accurate position of the mines, A9-M has shown that it is the best compromise for a compact light AUV, having a high level of navigation accuracy and platform stability, very low magnetic / acoustical signatures and unique endurance (more than 10 hours). Thanks to its advanced software suite, covering the different operational tasks from the mission preparation till the post-mission analysis, A9-M offers a complete and efficient solution to answer the most demanding mine warfare operations.

Specially designed for the French clearance divers, A9-M is operated within different navies since 2012.

Combined with the SEASCAN Mk2 for target inspection and K-STER C for mine neutralization, A9 is part of mine warfare robotic solutions designed by ECA Group. This system is proposed with a complete mine counter measure software suite for mission management, sensor data processing as well as MCM data base administration.

ECA Group is renown by its customers worldwide as a reliable and long lasting (since 80 years!) expert in robotic systems for mine-warfare domain. More than 20 navies worldwide use its solutions. Over 800 ECA Group robotic systems are operational at this moment !