a
Naval Forces News - Russia
Admiral Kuznetsov experience in Syria to help build new Russian aircraft carrier
Participation of Russia's aircraft carrier The Admiral Kuznetsov in combat operations in Syria will help design and build another such carrier for the Russian Navy, chairman of the State Duma defense committee and former Airborne Commander Vladimir Shamanov told TASS.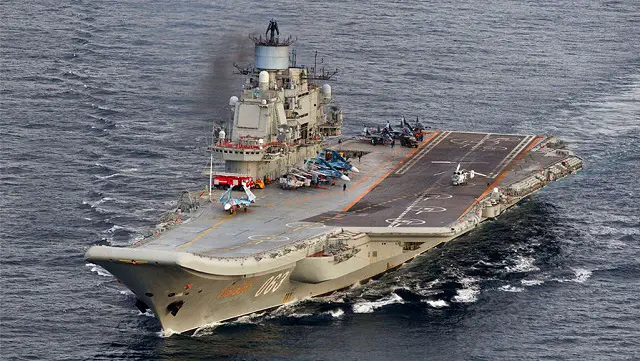 The Russian aircraft carrier Admiral Kuznetsov. Picture: Norwegian Armed Forces
He said both strengths and weaknesses displayed by The Admiral Kuznetsov's air group must be taken into account in building aircraft carriers of the future.

"Any experience that we've gained will certainly come in handy in building a new aircraft carrier. Creating such a ship has long been an urgent need because our country is washed by seas and oceans all around. We are destined to not only restore, but also to build up the fleet's combat potential," he said.

Shamanov believes The Admiral Kuznetsov's participation in the operation in Syria could be described as "another step forward in developing our Navy, because the effectiveness of the most advanced weaponry it has should be put to test in situations approximating combat ones, if not real combat operations, and not stay idle."

A Russian naval task force left for the northeastern Atlantic and the Mediterranean on a mission on October 15. A month later, on December 15 Russian Defense Minister Sergey Shoigu told President Vladimir Putin it delivered strikes against terrorists in Syria's Idlib and Homs provinces.

Two fighters have been lost in the operation. On December 5 the Defense Ministry said a Sukhoi-33 jet rolled off the runway after the arresting cable broke up.

© Copyright 2016 TASS. All rights reserved. This material may not be published, broadcast, rewritten or redistributed.