a
Naval Aviation News - USA
US Navy Grounds All F/A-18 E/F Super Hornets & EA-18G Growlers Following Incident
A U. S. Navy E/A-18G Growler jet assigned to Electronic Attack Squadron (VAQ) 132 experienced an on-deck emergency at Naval Air Station (NAS) Whidbey Island at approximately 1100 (PST), December 16th. The aircraft was damaged and both aircrew sustained injuries and were transported by a NAS Whidbey Island SAR helicopter to Harborview Medical Center for evaluation. The cause of the emergency is under investigation.
An EA-18G Growler
aboard an aircraft carrier. File picture: US Navy
Naval Air Forces has temporarily suspended flight operations for all F/A-18 E/F Super Hornets and E/A-18G Growlers as a safety precaution since they share common aircraft systems, with exceptions made on a case-by-case basis dependent upon operational requirements. The operational pause will allow both Naval Air Systems Command (NAVAIR) and Boeing engineers time to investigate the incident.

According to Navy Times quoting a US Navy spokeswoman "The ground emergency involved the jet's canopy, and an investigation is underway to determine the cause of the incident"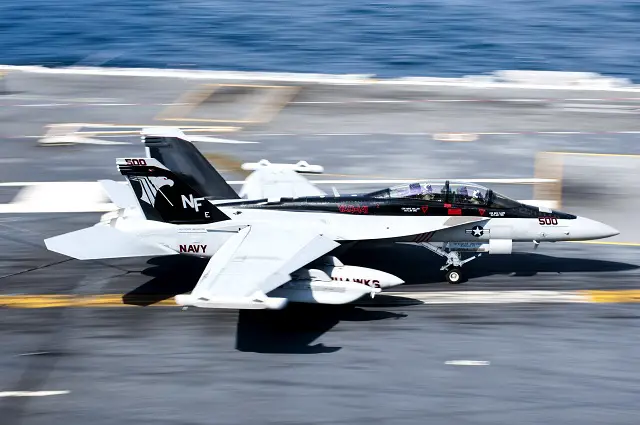 An EA-18G Growler from the "Shadowhawks" of Electronic Attack Squadron (VAQ) 141 is stopped by an arresting gear wire after landing aboard USS George Washington (CVN 73)
File picture: US Navy
About the Growler
The Boeing EA-18G Growler is carrier-based electronic warfare aircraft, a specialized version of the two-seat F/A-18F Super Hornet. The EA-18G replaced the Northrop Grumman EA-6B Prowlers in service with the United States Navy.

The EA-18G integrates advanced airborne electronic attack capabilities, developed and manufactured by Northrop Grumman, with the advanced strike capabilities, including advanced weapons, sensors and communications systems, installed on the F/A-18 Super Hornet aircraft.

The block 2 Growler is equipped with the APG-79 multi-mode radar with passive detection mode and active radar suppression, ALQ-218(V)2 digital radar warning receiver and ALE-47 countermeasures dispenser.

Boeing delivered the 100th EA-18G Growler aircraft in May 2014. The RAAF ordered 12 of such aircraft in June 2014.