a
Naval Industry News - USA
GD Bath Iron Works to Continue Providing Modernization Services for DDG 51 Ships

The U.S. Navy has awarded General Dynamics Bath Iron Works, a subsidiary of General Dynamics, a $126 million contract extension to manage ongoing post-delivery modernization activities for Arleigh Burke-class (DDG 51) destroyers. The contract extension runs through December, 2017, with options for an additional six months.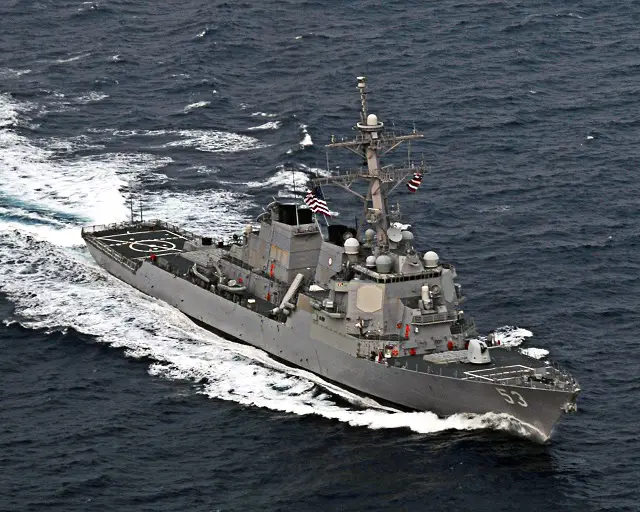 Arleigh Burke-class destroyer USS John Paul Jones (DDG 53) built by Bath Iron Works. (Picture: US Navy)
Bath Iron Works provides Planning Yard services for all Littoral Combat Ships and Arleigh Burke-class destroyers including engineering, design, material kitting, logistics, planning and execution. The company is currently supporting 68 ships, representing about 75 percent of the nation's surface combatants.

DDG 51 Planning Yard services are provided in Brunswick, Maine, as well as the following DDG 51 homeports: Norfolk, Virginia; Mayport, Florida; San Diego; Everett, Washington; Pearl Harbor, Hawaii; Rota, Spain; and Yokosuka, Japan.
The Arleigh Burke-class destroyer is a multi-mission combatant that offers defense against a wide range of threats, including ballistic missiles. It operates in support of carrier battle groups, surface action groups, amphibious groups and replenishment groups, providing a complete array of anti-submarine, anti-air and anti-surface capabilities. Arleigh Burke-class destroyers combine the AEGIS combat system, the Vertical Launching System, an advanced ASW system, two embarked SH-60 helicopters, advanced anti-aircraft missiles and Tomahawk anti-ship and land-attack missiles. Designed for survivability, the ships incorporate all-steel construction and gas turbine propulsion.