a
Naval Forces News - Turkey, Russia
Turkish Navy MELTEM II CASA CN-235 Maritime Patrol Aircraft Tracked Russian Navy Corvette
According to Russian media, a Turkish Navy Meltem II CASA CN-235 Maritime Patrol Aircraft (MPA) tracked two Russian Navy Black Sea fleet surface vessels during their transit to the Mediterranean Sea. The two vessels are likely Project 21631 small missile ship (Buyan-M class corvette)
Zelyony Dol
and the ocean-going mine-sweeper
Kovrovets
. We reported about their deployment
last week
.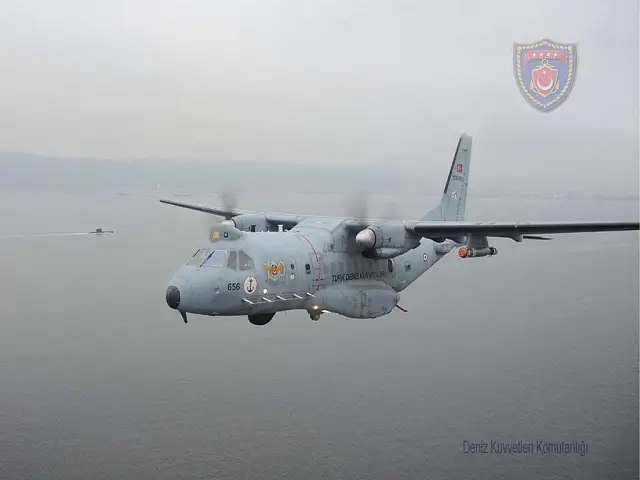 Turkish Navy MELTEM II CASA CN-235 MPA. Picture: Turkish Navy

Thales was the prime contractor for the Meltem II programme, which called for the delivery of six maritime patrol aircraft for the Turkish Navy and three maritime surveillance aircraft for the Turkish Coast Guard. The aircraft are based on modified CASA CN-235 platforms.

The Meltem II aircraft of the Turkish Navy are fitted with an ASELFLIR-200 Airborne Thermal Imaging System by Aselsan, Airbus Defence and Space AN/AAR-60 Missile Warning System, CAE AN/ASQ-508(V) MAD system. Thales supplied a number of systems as well: the AMASCOS solution (Airborne MAritime Situation & Control System), the DR 3000A ESM system and the Ocean Master 400 Mk2 radar.

Meltem II MPAs can deploy the Mk46 NEARTIP Mod 5 torpedo, as well as AN/SSQ-53E DIFAR and AN/SSQ-62D DICASS sonobuoys. It is also fitted with the AN/ALE-47 Airborne Countermeasures Dispenser System by BAE Systems.
Project 21631 Buyan-M-class small missile ship (corvette) Zelyony Dol (hull number 602)
The Zelyony Dol joined the Russian Black Sea Fleet in November 2015 and is the latest addition to the fleet.

This Project 21631 "small missile ship" is armed with the Kalibr (NATO reporting name: SS-N-27 Sizzler) missile system containing missiles in the 3S14 vertical launcher with eight launch tubes. The Kalibr missile system delivers strikes on naval and ground targets using 3M-54 and 3M-14 cruise missiles, respectively. The Project 21631 small missile ship is equipped with the A-190 100mm gun, the AK-630-2 Duet small-caliber antiaircraft artillery system and 3M-47 Gibka launchers. The Project 21631 small missile ship has a length of 75 meters, a displacement of 949 tons, a speed of 25 knots and endurance of 2,500 miles. The ship's crew totals 52. Its cruising capacity is up to ten days.