a
Naval Forces News - France
Successful M51 Ballistic Missile SLBM Test in Operational Conditions from French Navy SSBN
The French Ministry of Defense announced that an M51 submarine launched ballistic missile (SLBM) was test launched "in operational conditions" from French Navy (Marine Nationale) ballistic missile submarine (SSBN) Le Triomphant on July 1st 2016.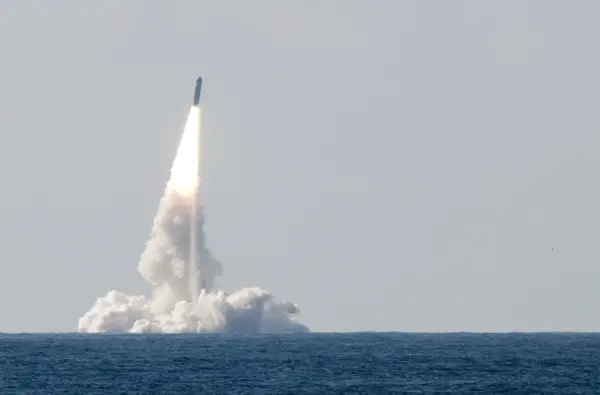 French SLBM M51
Archive Image
This test was successful and was carried out without nuclear charge. The missile was monitored throughout its flight phase by means of DGA testing facility and
Missile Range Insrumentation Ship Monge
(A601). The impact zone is located in the North Atlantic several hundred kilometers from any coast.
The M51 is fitted today on board three of the four new generation SSBNs of the French Navy (
Le Triomphant class
). The transition of the entire French Navy's strategic oceanic force fleet to the M51 missile is expected by the end of the decade.
The M51 is the new generation intercontinental SLBM gradually replacing the M45 since 2010. Each missile carries six to ten independently targetable (MIRV or Multiple Independently targeted Reentry Vehicle) TN 75 thermonuclear warheads. TN 75 started getting replaced with the new Tête nucléaire océanique (TNO or oceanic nuclear warhead) warheads last year (2015). These new warheads are reported to be maneuverable (MARV or Maneuverable Re-entry Vehicle) in order to avoid potential ballistic defenses. The TNO has a yield that is estimated to be greater than or equal to the yield of the TN 75 warhead, 150 kilotons of TNT (kt) with a CEP (circular error probability) of 150 meters. The warhead's design and functionality were validated through simulation, particularly with DAM's Tera 100 supercomputer, Megajoule laser, and radiographic equipment. The M51 range is reported to be close to 10,000 Km.
File footage: Video an M51 test conducted in September 2015