a
Naval Defense Industry News - Australia
Saab to Sustain Combat Systems Aboard Royal Australian Navy ANZAC-class Frigates
Defence and security company Saab has received an order from the Australian Government regarding sustainment of the combat system on Australia's ANZAC class frigates. The order value amounts to AUD 37 million (approximately SEK 248 million) and covers services from July 2016 until December 2017.
HMAS Toowoomba is the seventh of eight Anzac Class Frigates built for the Royal Australian Navy (RAN). Picture: RAN

This is Saab Australia's first order under the recently signed Warship Asset Management Agreement (WAMA). WAMA is an asset management organisation which is responsible for the overall performance and delivery of seaworthy ANZAC class warships and support infrastructure to the Royal Australian Navy (RAN). Under the long-term asset management agreement, Saab Australia, which is part of Saab business area Surveillance, will provide on-going engineering support services in both Western Australia and South Australia.

"The agreement and this order reflect our highly successful and long term commitment to the ANZAC frigate and the Royal Australian Navy" says Dean Rosenfield, Managing Director for Saab Australia.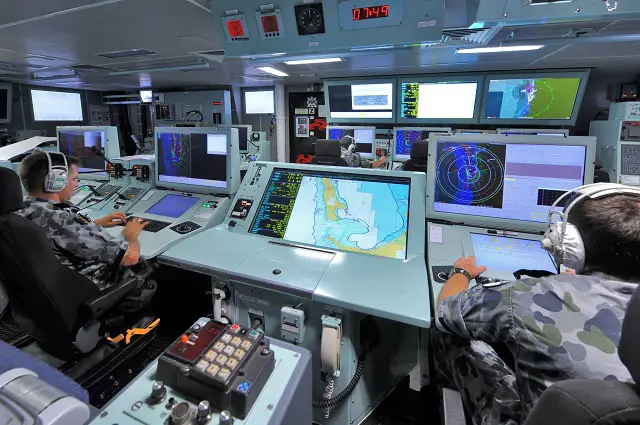 CIC aboard an ANZAC-class frigate of the Royal Australian Navy (RAN). Picture: Saab

"The ANZAC frigates are the trusted workhorse of the navy and Saab has played a major role in evolving the fighting capability of the ships over the last 20 years. We look forward to continue working with our local partners to ensure the ANZACs continue to fulfill Navy's needs," says Rosenfield.

Saab is part of the WAMA team charged with ensuring that the ANZAC Class ships remain at a high level of availability and capability for the Royal Australian Navy.

For three decades, Saab has successfully delivered naval combat systems to the Royal Australian Navy. Together with CEA Technologies, Saab's Anti-Ship Missile Defence (ASMD) system has delivered one the most advanced naval frigate combat capabilities in the world.

The next generation of Saab's Combat Management System is building on this pedigree. Commitment to innovation, continuous improvement, local production and support makes Saab the lead contender to provide the combat system for Australia's future frigate programme.