a
Naval Forces News - Chile
Chilean Navy Upgrading its Type 23 Frigates with RIM-162 ESSM Missile & Mk41 VLS
The U.S. State Department has made a determination approving a possible Foreign Military Sale to Chile for Evolved Seasparrow Missiles (ESSMs), equipment, training, and support. The estimated cost is $140.1 million. The Defense Security Cooperation Agency delivered the required certification notifying Congress of this possible sale on July 1, 2016.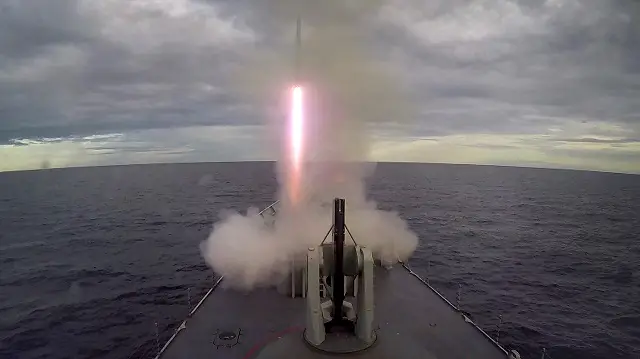 RIM-162 ESSM Missile fired from RAN Adelaide class Frigate HMAS Melbourne. Picture: RAN

The Government of Chile has requested a possible sale of:

Major Defense Equipment (MDE):
Thirty-thirty (33) Evolved Seasparrow Missiles (ESSMs)
Six (6) Evolved Seasparrow Telemetry Missiles
Three (3) MK 41 Vertical Launching Systems (VLS), tactical version, baseline VII

Non-MDE:
This request also includes the following Non-MDE: Ten (10) MK25 Quad Pack Canisters; Five (5) ESSM Shipping Containers; Five (5)MK-73 Continuous Wave Illumination Transmitters, One (1) Inertial Missile Initializer Power Supply (IMIPS); spare and repair parts, support and test equipment, publications and technical documentation, personnel training, U.S. Government and contractor engineering, technical and logistics support services, technical assistance, installation and integration oversight support, logistics, program management, packaging and transportation.

This proposed sale will contribute to the foreign policy and national security of the United States by increasing Chile's ability to contribute to regional security and promoting interoperability with the U.S. forces. The sale will provide upgraded air defense capabilities on Chile's type 23 frigates. The proposed sale improves Chile's capability to deter regional threats and strengthen its homeland defense. Chile will have no difficulty absorbing this equipment into its armed forces.

Raytheon, BAE Systems and Lockheed Martin are the contractors implementing the upgrade.

Armada de Chile's Type 23-class Frigate Almirante Lynch. Picture: Ian Dunster

Raytheon's ESSM provides critical layered defense by delivering protecting firepower against high-G maneuvering anti-ship cruise missiles, supersonic high-diving threats and low-velocity air threats, as well as surface targets. ESSM was successfully launched from a ground-based system, demonstrating that the missile's performance over ground matches that over water.