a
Naval Forces News - France, USA
V-22 Osprey Tilt Rotor Aircraft Tested Aboard French Navy Aircraft Carrier Charles de Gaulle
By Xavier Vavasseur - Chief Editor
On July 6th, the French Navy Naval Aviation Practical Experimentation Center (centre d'expérimentations pratiques de l'aéronautique navale - CEPA 10S) and the crew of Charles de Gaulle tested for the first time a Bell Boeing V-22 Osprey tilt rotor aircraft aboard the French aircraft carrier.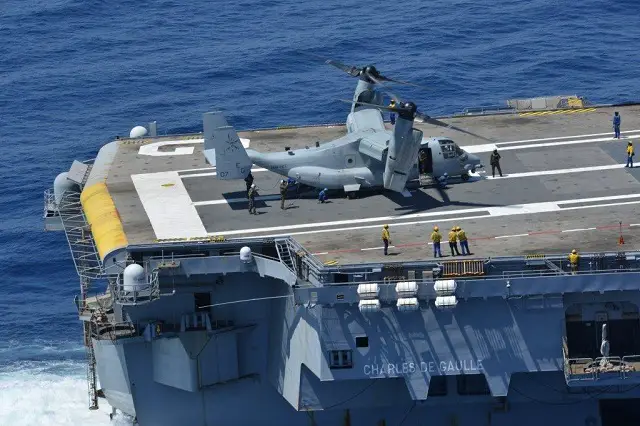 A USMC MV-22B tilt rotor aircraft is tested aboard French Navy aircraft carrier Charles de Gaulle
Picture: French Navy
The MV-22B belonged to Marine Medium Tiltrotor Squadron 263 (VMM-263) "Thunder Eagles" and came from Moron air base in Spain.
The test campaign was used to validate the following:
- The landing and take-off
- The parking with engines running
- The refuelling of the tilt-rotor aircraft
- The foalding of rotors and wings
- The towing of the Osprey with the flight deck tractors
- The tying down of the V-22 on the flight deck
According to the French Navy, this work will allow the V-22 to operate safely with the
Charles de Gaulle
during future deployments. It will ensure the sustainability of the US logistical support in favor of the French carrier strike group despite the planned withdrawal of the C2 Greyhound aircraft. The operational capacity of the V-22 should also provide new opportunities in the achievement of the carrier strike group missions.
The success of this test showcases the common desire to maintain a high level of interoperability between US and French naval forces and to maintain their joint capabilities.

Comment by Navy Recognition
This latest test follows a comprehensive qualification campaign of the V-22 with the French Navy Mistral-class of LHDs which took place
in May this year
, as well as
in March
. In
September last year
, the French navy declared the V-22 Osprey "fully qualified for operational missions to and from the Mistral class".
Navy Recognition
reported earlier this year
that the French Navy may be interested in the V-22 Osprey for a carrier onboard delivery role. In addition, there could be a V-22 Osprey at Euronaval 2016, a leading naval defense exhibition, in October.
The US Navy is set to procure 48 Ospreys for Sea Based Logistics (including COD), Personnel recovery (including SAR) and Special warfare (with US Navy Seals) missions. The US Navy is studying options to increase the range of the legacy V-22. The likely solution will be to increase the size of the external sponsons to fit more fuel inside. This would be the only physical difference with legacy V-22. The official US Navy designation is CMV-22B. See our
short interview with Rick Lemaster, Director V-22 Tiltrotor Global
, on the CMV-22B Osprey for the US Navy.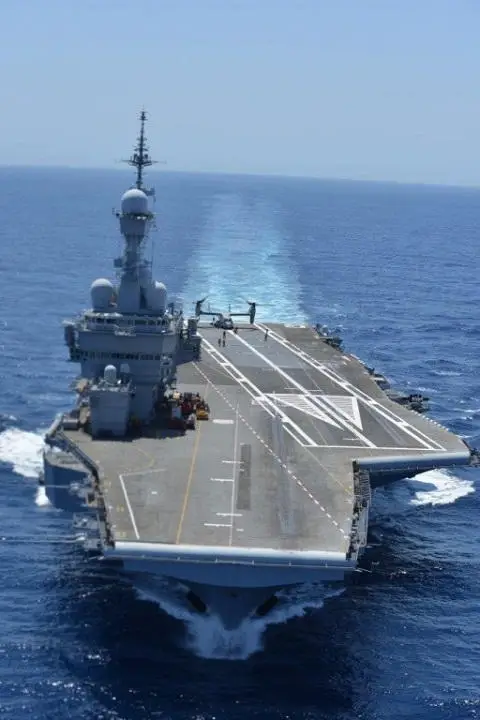 A USMC MV-22B tilt rotor aircraft is tested aboard French Navy aircraft carrier Charles de Gaulle
Picture: French Navy