a
Naval Forces News - China
China's 7th & 8th Type 903A Fleet Replenishment Oilers Commissioned Into PLAN South Sea Fleet

The People's Liberation Army Navy (PLAN or Chinese Navy) commissioned two Type 903A Fleet Replenishement Oilers on July 15 2016 with China's South Sea Fleet. A commissioning, naming and flag-presenting ceremony was held solemnly at the Zhanjiang naval base in South China's Guangdong province for the new vessels: Honghu (hull number 963) and Luomahu (hull number 964).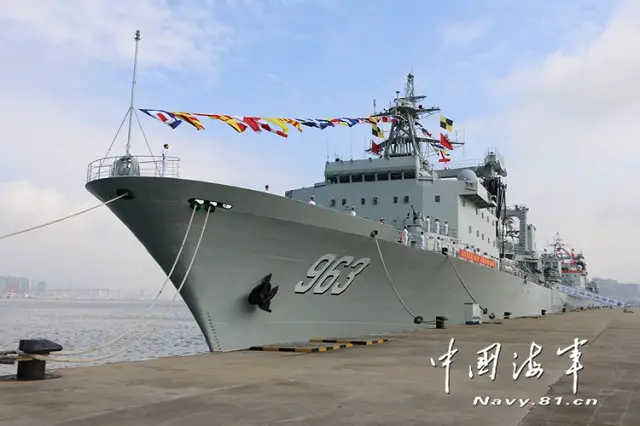 Type 903A Fleet Replenishment Oiler Honghu (963) was commissioned on July 15 according to the PLAN. Picture of the ceremony via eastpendulum.com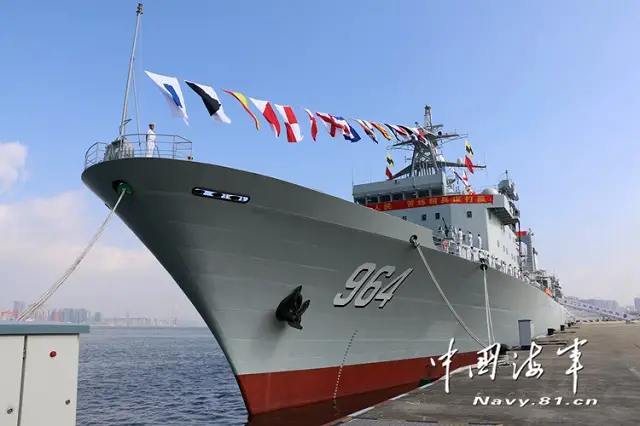 Type 903A Fleet Replenishment Oiler Luomahu (964) was commissioned on July 15 according to the PLAN. Picture of the ceremony via eastpendulum.com
Launched on June 28th 2015 in Guangzhou and on June 5th 2015 in Shanghai respectively, Honghu and Luomahu are joining sister ship Weishanhu (hull number 887) with the PLAN South Sea Fleet.

Type 903A fleet replenishment oilers displace 23,400 tons. They measure 178 meters in length with a beam of 25 meters. They can accomodate the Z-18/Z-8 medium helicopters thanks to their flight deck and hangar. They can accommodate up to 10,700 tons of dry and wet cargo.
CCTV report on the commissioning ceremony
Type 901
China is currently building a very large supply ship to meet a growing need for underway replenishment missions. This emerging need is in line with the PLAN's new trend of conducting patrols and missions quite far from its coast line. It is also in line with the future carrier strike groups the PLAN is planing to get with the arrival Type 001A and Type 002 aircraft carrier in the next few years. Named Type 901, the new class of supply vessel is reported to be two times larger than the existing Type 903A.

The Type 901 supply ship overall length is approximately 229 meters with a beam of approximately 32.5 meters. Displacement would likely be on the order of 45,000 to 50,000 tons full load. Similar to the US Military Sealift Command's Supply class AOEs, Type 901 is fitted with 5 fueling stations (3 on port side) and 2 cargo stations.

The first Type 901 vessel is currently under construction at the Guangzhou shipyard international (GSI) naval shipyard.