a
Naval Industry News - Russia
Russia's Defense Ministry may sign contract on Project 23560 Leader-class Destroyer Soon
Russia's United Shipbuilding Corporation (OCK) is planning to sign a contract with the Defense Ministry in the imminent future to build the Project 23560 Leader destroyer, Corporation Vice-President for Military Ship-Building Igor Ponomaryov said on Friday. "The Russian Defense Ministry is currently considering the preliminary design of the Project 23560 Leader destroyer," Ponomaryov said.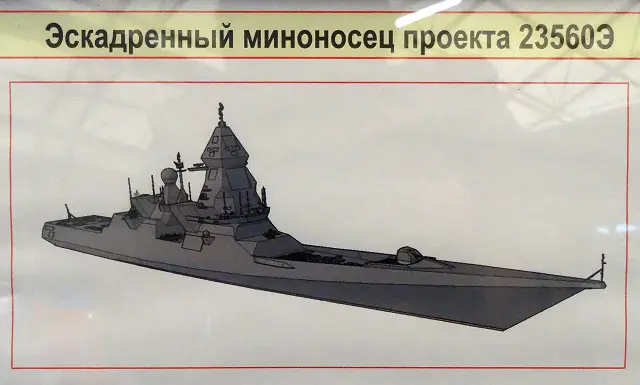 Image showing the notional design of Project 23560E "Shkval-class" Destroyer (export variant of Leader-class) as of mid-2015. Twelve ships of the 10,000t "Leader class" are planned to enter service from 2023-25, split between the Northern and Pacific Fleets. They will all be nuclear powered. They will be fitted with the ABM-capable S-500 SAM and Kalibr (SS-N-27) cruise missile.
Image: forums.airbase.ru

"After the positive decision is taken, we will work out a detail design of the ship and documentation for its construction within the timeframe that the Defense Ministry will specify in the contract that is expected to be signed," he added.

It was reported earlier that the Krylov State Research Center had worked out and submitted a preliminary design of the future Lider destroyer to the Russian Navy in accordance with the contract.

The future Project 23560 Lider destroyer is expected to replace the Project 956 and 1155 ships that make up the mainstay of the Navy's general-purpose ocean-operating forces.

The Project 23560 destroyer will have a nuclear propulsion unit. The destroyer will be also armed with the Kalibr (NATO reporting name: SS-N-27 Sizzler) and Oniks (SS-N-26 Strobile) missile systems or their versions and a shipborne version of the S-500 air defense missile system able to provide antiballistic missile defense.

© Copyright 2016 TASS. All rights reserved. This material may not be published, broadcast, rewritten or redistributed.