a
Naval Defence Industry News - France
IMCMEX-16: ECA Group demonstrated capabilities of its AUV A9-M for Mine Counter Measures
More than 4000 civilian and military staff, coming from 30 nations of 6 continents have participated to the International Mine Countermeasures Exercise (IMCMEX-16) the largest maritime event which took place in the Persian Gulf in April 2016. The Fleet Tactical Exercise (FTX), focused on maritime security and includes scenarios of mine countermeasures, infrastructure protection and maritime security operations demonstrated new technologies, including unmanned underwater vehicles, such as the A9-M AUV from ECA Group deployed by the French Navy.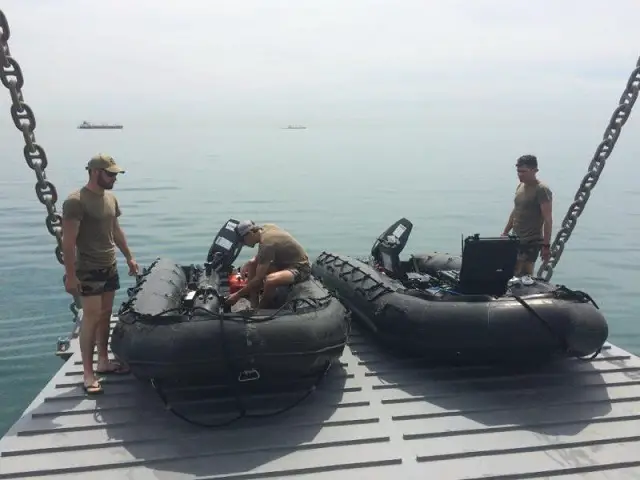 ECA Group's A9-M Autonomous Underwater Vehicle with French Navy EOD team. Picture: ECA
From the "Camp Patriot" naval base in Kuwait, the French divers team (EOD) has implemented its means to survey several coastal areas which stretched from the beaches to the harbor surroundings. These mines hunting phases aimed at localize potential contacts for further inspections. ECA Group team was there in order to support the French operational forces and evaluate its A9-M in an operational context.

Thus the A9-M AUV has successfully performed consecutive hours of hunting despite bad weather conditions and the complexity of the sea bottoms mainly thanks to its Obstacle Avoidance System The vehicle showed its accuracy for contacts detection and robustness according to the time range of use. A9-M is a unique portable Autonomous Underwater Vehicle (AUV) with the lowest magnetic and acoustic signatures for mine counter measure operation including against the most sensitive mines.

Also compliant with STANAG 1364, as the A9-M AUV, ECA Group proposes a wide range of AUVs and Mine Disposal Vehicles (MDV) for full MCM operations from initial detection up to final neutralization.

AUV as the very long range A27-M selected for MMCM Fr/UK program or the new A18-M AUV easily deployable from non-specialized naval platform or Unmanned Surface Vehicles (USV).

MDS as the PAP Mk6 or the K-STER for contact inspection and neutralization of any kind of mines or EOD even the harshest environmental conditions where other vehicles such as classical ROV cannot operate.