a
Naval Forces News - China
China's 26th Type 056 Corvette (Jiangdao class) Qujing Commissioned in PLAN South Sea Fleet
A commissioning, naming and flag-presenting ceremony of the new
Qujing
corvette (hull number 508) of the People's Liberation Army Navy (PLAN or Chinese Navy) was held solemnly at Yulin Naval Base located in the Yalong Bay (city of Sanya) on Hainan island. The event means that the vessel is officially commissioned to the PLAN.
Qujing
is the twenty-sixth
Type 056 Corvette (Jiangdao class)
.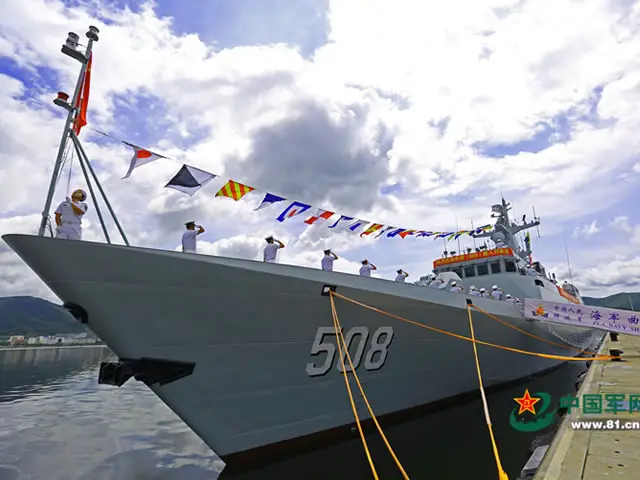 Type 056 Corvette Qujing during the commissioning ceremony

Qujing,
the third corvette of the class to be commissioned this year, joined the PLAN's South Sea Fleet. It is the tenth corvette of the class to be assigned to the PLAN's South Sea Fleet. According to a PLAN statement,
Qujing
's
main area of responsibility will the be the Paracel Islands in the South China Sea. Five more Type 056 Corvettes are expected to be inducted in the PLAN in 2016.
According to a Chinese MOD statement, Type 056 Corvettes
are new-generation light guided missile frigates independently developed by China. It has a length of 89 meters, a beam of 11 meters and a full-load displacement of 1,500 tons.

The warship, independently developed, designed and constructed by China, is equipped with a variety of weapons and equipment, and is featured by good stealth performance, strong compatibility, and a wide range of applications of advanced technologies.

After commissioned to the PLAN, the warship will perform such missions as patrolling, alert, fishery protection, escort, antisubmarine operation and anti-surface operation.


Link to Type 056 Corvette (Jiangdao class) datasheet
CCTV coverage of Type 056 Corvette Qujing commissioning ceremony