a
Naval Industry News - Russia
Project 22010 Research Vessel Almaz to Monitor Rocket Launches in Vostochny Cosmodrome
The Almaz oceangoing research vessel laid down by the Yantar Shipyard in the Russian city of Kaliningrad will monitor spacecraft for the Roscosmos State Corporation, Russian Defense Ministry Deep-Water Research Department chief Alexei Burilichev has told journalists.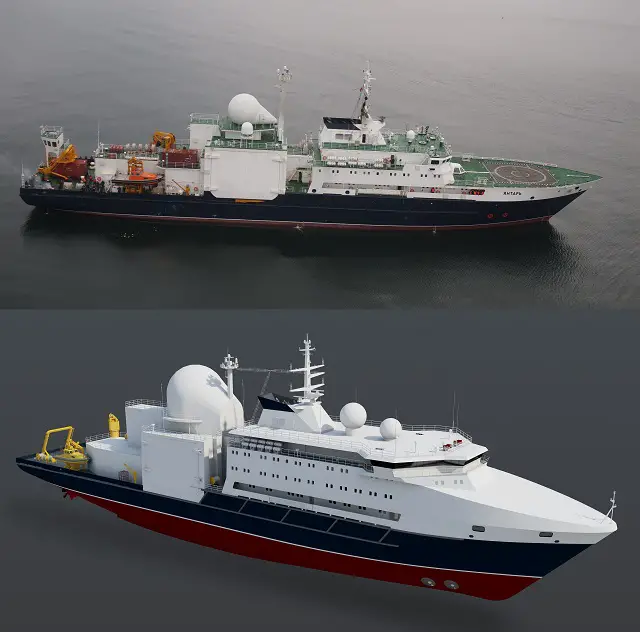 The existing Project 22010 research vessel "Yantar" at the top (serial number 01602) and the future one "Almaz" at the bottom (serial number 01604). Picture and image: Yantar Shipyard

"We… [Defense Ministry] are assuming new tasks in order to use the money the government invests in defense in an integrated manner, including doing so in the interests of Roscosmos," Burilichev said during the keel-laying ceremony.

According to him, the Almaz will shoulder some of the spacecraft tracking and Flight Control Center communication work in support of launches from the Vostochny cosmodrome.

"Considering the commissioning of the Vostochny cosmodrome, where launches will start in 2018, I hope that she [Almaz] will have been built by 2019 and will move there [to the Pacific] and handle this task," Burilichev added.

The Defense Ministry official also mentioned that the advanced vessel would operate in the interest of the Russian Academy of Sciences as well. She will be able to carry the Mir-1 and Mir-2 deep-water submersibles for research in addition to the Rus and Consul ones.

The Almaz is the second Project 22010 vessel from the Almaz Central Design Bureau. The lead ship, the Yantar, was built by the Yantar Shipyard and delivered to the Russian Defense Ministry in May last year. According to Almaz Design Bureau Director General Alexander Shlyakhtenko, the second vessel is somewhat different from the lead ship. According to him, she "is 11 m longer" and will not carry a helicopter. The vessel's capabilities have been expanded based on the lessons learnt from the operation of the lead ship, he stressed.
The Project 22010 oceangoing research vessels have an unlimited range. They are designed for researching into the ocean and its bottom. They are afforded Consul manned and Rus self-contained unmanned deep-water submersibles. The vessels are fit for maritime search and rescue and for looking for sunk objects on the bottom of the ocean.

© Copyright 2016 TASS. All rights reserved. This material may not be published, broadcast, rewritten or redistributed.