a
Naval Industry News - Russia
Russian Navy First Project 21180 Icebreaker Ilya Muromets Launched in St Petersburg
The lead diesel electric icebreaker Ilya Muromets of project 21180 became the first vessel of the class in 45 years of Russian Navy history to be floated by the Admiralty Shipyard in St. Petersburg, TASS correspondent reported. The ceremony was attended by Russian Navy Chief-of-Staff Vice Admiral Andrei Volozhinsky, head of the department for state defense order of the Russian defense ministry Andrei Vernigora and Director General of the Admiralty Shipyard Alexander Buzakov.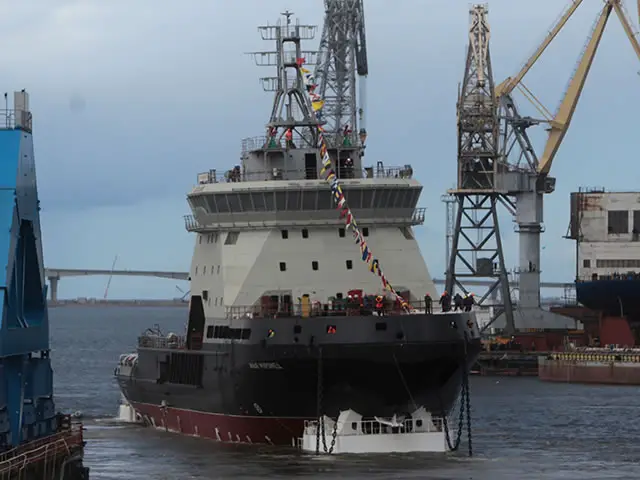 The First Project 21180 Icebreaker Ilya Muromets is launched. Picture: JSC Admiralty Shipyard

"Today after a five-year break we are floating from this slipway a new vessel - supply icebreaker with major functional capabilities. It is symbolic that 60 years ago the Lenin nuclear-powered icebreaker had its keel laid on the same slipway," Buzakov said.

He said the Ilya Muromets will be commissioned on time. It is expected to happen in 2017. In the autumn of 2016 "new Arctic ships will have their keels laid on the same slipway," the director general of the shipyard said.

Head of the United Shipbuilding Corporation Alexey Rakhmanov earlier said a series of Ilya Muromets type icebreakers may be built to renew auxiliary fleet of the Russian Navy. The decision will be taken after the lead ship is operated for a year.

The Ilya Muromets had its keel laid on April 23, 2015. The icebreaker's displacement comprises 6 thousand tons. It can autonomously navigate for up to 60 days to a distance of 9 thousand nautical miles. The crew comprises 35 men. The icebreaker can also operate as a tug and patrol ship.

© Copyright 2016 TASS. All rights reserved. This material may not be published, broadcast, rewritten or redistributed.