a
Naval Industy News - Russia, Saudi Arabia
Russia May Offer Project 22160 Patrol Ships to Saudi Arabia
Russia may offer five Project 22160 patrol ships to Saudi Arabia, according to the annual report of Zelenodolsk Shipyard named after M. Gorky. According to the shipyard, Project 22160 ship is designed for guarding the territorial waters, patrolling the exclusive economic zone on open and enclosed seas, stemming smuggling and piracy, searching and rescuing ships in distress, monitoring the environment, escorting ships and vessels and guarding naval bases and sea areas...
Project 22160 patrol ship. Picture: Severnoye Design Bureau

"The Zelenodolsk Shipyard is searching for foreign customers in conjunction with Rosoboronexport and Federal Service for Military-Technical Cooperation (Russian acronym: FSVTS). Foreign customer No. 682 (Saudi Arabia) may acquire five Project 22160 patrol ships. The materials required for the drafting of a commercial proposal were sent to Rosoboronexport in early December 2015," the authors of the Zelenodolsk Shipyard`s annual report said.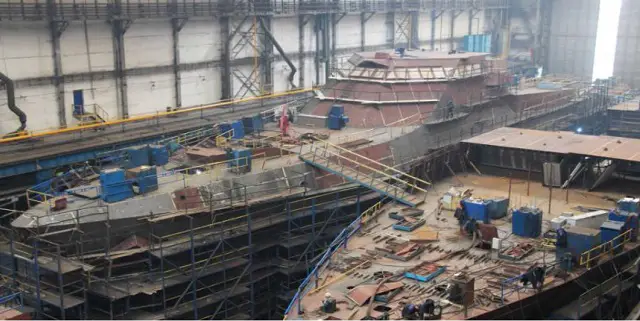 Project 22160 patrol ship under construction at Zelenodolsk Shipyard. Picture via: glav.su/forum
According to the document, foreign customer No. 144 (Sri Lanka) may acquire one Gepard-5.1 frigate (NATO reporting name: Gepard-class), foreign customer No. 398 (Kazakhstan) - several Project 21632 (Tornado-class) missile boats and foreign customer No. 050 (Bangladesh) - two patrol ships based on Gepard-3.9 frigate.

© Copyright 2016 TASS. All rights reserved. This material may not be published, broadcast, rewritten or redistributed.