a
Naval Forces News - Russia
Russian Aircraft Carrier Admiral Kuznetsov to Receive Modern Weapon Systems During Upgrade
The armament of the Project 11435 (NATO reporting name: Kuznetsov-class) Admiral Kuznetsov aircraft carrier will be replaced with sophisticated weaponry during the upcoming modernization, United Shipbuilding Corporation (USC) President Alexei Rakhmanov has told TASS.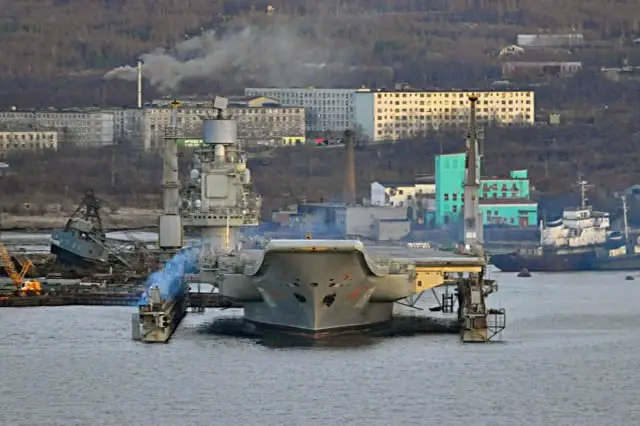 Russian Navy Aircraft Carrier "Admiral Kuznetsov" entered the dock 82 Shipyard in Severomorsk/Murmansk on Wednesday, May 13. Picture: Flotprom.ru

"Certainly, it will be," he responded to TASS's question whether the ship's armament would change.

Rakhmanov did not specify the systems to be replaced. He also said the upgrade of the carrier would take about two years, but its schedule and volume of work might be adjusted.

A contract for the long-term repair of the carrier, which has left the shipyard after her maintenance, is being negotiated now, the USC president said.
"The work in earnest will take about two years. I reckon the contract will spell out the schedule. Still, it is possible that the volume of work will be optimized, if the repair schedule has to be optimized," Rakhmanov said.

A source in defense industry had previously told TASS about the forthcoming upgrade of the Admiral Kuznetsov. According to the source, the work will commence in the first quarter of 2017 and will cost several billion rubles. USC Vice-President for Military Shipbuilding Igor Ponomaryov told TASS later that the contract was not signed yet, and the corporation was yet to receive the requirements specification for the Admiral Kuznetsov's long-term repair.

Russia's Project 11435 aircraft carrier Admiral Kuznetsov will return to the 35th Shipyard in Murmansk in northwest Russia after its sea trials to undergo the second stage of repairs, the shipyard's press office said. The aircraft carrier left the shipyard's water area on June 15 when the first stage of the restoration of its combat readiness was completed.

The aircraft carrier entered service in 1990. The ship has a full displacement of 58,000 tons, a length of 304.5 meters, a full capacity of 200,000 hp and a speed of about 30 knots. In addition to its air group of 24 or 26 fighter jets and 12 helicopters, the Admiral Kuznetsov is armed with anti-ship and air defense missile systems. The ship also has a ski-jump ramp and two aircraft elevators to support aircraft operations. The ship's crew totals 1,300 and its air wing has 660-strong personnel.

© Copyright 2015 TASS. All rights reserved. This material may not be published, broadcast, rewritten or redistributed.