a
Naval Forces News - USA
US Navy marks new steps in manned/unmanned cooperation with latest MQ-4C & P-8A Test
By Stelios Kanavakis - Senior Defence Analyst
The US Navy has made two further steps in the field of manned-unmanned cooperation. At a flight test in 2 June 2016, a
Northrop Grumman MQ-4C Triton
unmanned air system (UAS) and a
Boeing P-8A Poseidon
maritime patrol aircraft (MPA) showcased two new key capabilities that will bring maritime operations to a new level.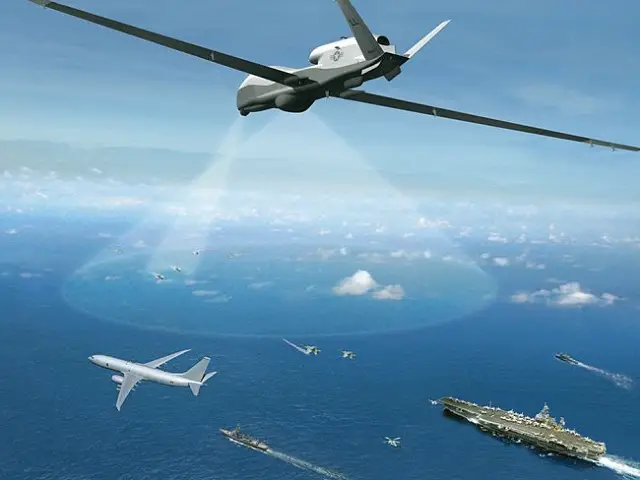 Link to MQ-4C Triton datasheet

Artist impression of MQ-4C Triton UAS in action with P-8A Poseidon MPA
The two platforms were successful in exchanging full motion video via Common Data Link (CDL) during flight. It was the first time that the UAV and the aircraft conducted such an interoperability operation. The Triton tracked a target with its electro-optical/infrared camera and transmitted the video to a P-8, which was flying at a distant area.

In practice this means that the P-8 could remain out of a high-threat area whilst maintaining coverage of that area, have early warning long before it reaches a designated area of patrol or simply focus on a core mission leaving the secondary to the unmanned platform.

Moreover, last week, an MQ-4C Triton completed its second heavy weight flight configuration, at a height of 30,000 feet. That test will allow the expansion of the platforms estimated time on station significantly.

As US Navy Cmdr Daniel Papp, Triton integrated programme team leader, said, "the heavy weight envelope expansion work will enable Triton to realize its long dwell capability and become the unblinking eye for the fleet."

More tests will take place in the following months until Triton's full operational capability status and operational deployment with the US Navy.