a
Naval Industry News - Germany, Canada
Noske-Kaeser Products Are Now Available on the Canadian Market
On the 27th of January, 2016, Noske-Kaeser GmbH and Patlon Aircraft & Industries Limited signed an exclusive distributor agreement. By that Noske-Kaeser has gained an experienced partner in Canada to provide customers in the shipbuilding industry with their turnkey solutions for HVAC incl. CBRN systems, refrigeration systems as well as all kind of fire fighting and piping systems. The partnership also guarantees to deliver this scope of supply with a high part of Canadian content.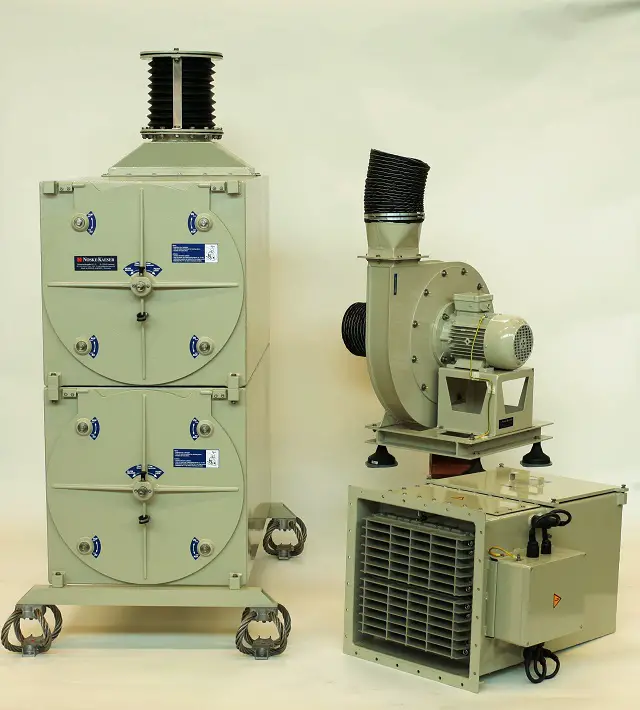 Noske-Kaeser modular NBC system

"Canada is an important and promising market for Noske-Kaeser, especially the national shipbuilding procurement program. By joining with a very experienced and renowned partner as Patlon Aircraft & Industries Limited we have a perfect platform to support our customers in Canada with our customised solutions in the different fields of HVAC and fire fighting", says Jürgen Matthes, CEO of Noske-Kaeser.

"Noske-Kaeser is globally well-known for its proven and innovative technology and its comprehensive service. Therefore we are looking forward to our exclusive partnership for the Canadian market", says Steve Mann, Executive Vice President of Patlon Aircraft & Industries Limited.

About Noske-Kaeser GmbH:
For more than 135 Noske-Kaeser has designed and provided system solutions and components in the fields of air conditioning, ventilation, refrigeration, piping, firefighting as well as CRBN protection. Naval and merchant vessels, cruise liners and ferries as well as yachts, offshore vessels and substations, rail and special purpose vehicles worldwide are equipped with the technology by Noske-Kaeser. The company operates a global service network for its customers and offers sales support in numerous countries all over the world. Noske-Kaeser currently employs a staff of 160 experts in its headquarters in Hamburg and in its offices in Dubai, India, Malaysia, New Zealand and Turkey.