a
Naval Industry News - United States
US Coast Guard commissioned its 16th fast response cutter
The United States Coast Guard commissioned its 16th fast response cutter, Coast Guard Cutter Winslow Griesser, in San Juan, Puerto Rico, March 11. The cutter is the fourth FRC stationed in San Juan. The other 12 FRCs in service are stationed in Florida – six in Miami and six in Key West.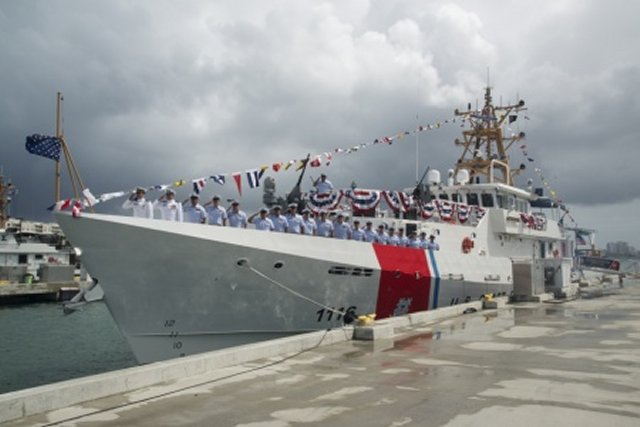 USCG's Fast Response Cutter "Winslow Griesser"
(Credit: USCG/Ricardo Castrodad)
The 16th FRC was named after Winslow W. Griesser, a keeper of the Buffalo, New York, lifesaving station who was awarded the Gold Lifesaving Medal for his rescue of a man thrown into the sea when two large boats broke loose from their moorings Nov. 21, 1900. Griesser's great-granddaughter, Paula Griesser Fairfield, is the ship's sponsor.
FRCs patrol the near-offshore environment conducting a variety of missions, including drug and migrant interdiction; ports, waterways and coastal security; fishery patrols; and search and rescue. The ships are 154 feet long, have a range of 2,950 nautical miles and feature advanced command, control, communications, computers, intelligence, surveillance and reconnaissance equipment; stern cutter boat launch; and improved habitability and seakeeping. They are replacing the Island-class 110-foot patrol boats, which entered service in the 1980s.
The service has ordered 32 FRCs of 58 planned. The 17th FRC was delivered March 5 and is scheduled for commissioning in San Juan in mid-2016.