a
Naval Forces News - Russia
3M22 Zirkon Hypersonic Anti-Ship Missiles to Give Russian Navy Pivotal Advantage
The Project 11442 heavy nuclear missile cruiser 'Petr Veliky' (NATO reporting name: Kirov-class) will have been armed with the latest hypersonic Zirkon anti-ship missiles (ASMs) by 2020. Military experts whose assessments were published in Russian media believe that Russia has considerably outplayed the United States, China and other countries in this area. They say it is a breakthrough which will give Russian Navy a pivotal advantage in the military stand-off in the world ocean.


According to rumors, the Indo-Russian BrahMos II hypersonic cruise missile (pictured here at Defexpo 2014) is the export variant of the Russian 3M22 Zircon missile.

Zirkon is a multi-service 3K-22 missile complex with hypersonic tactical 3M-22 ASMs. Since 2011, it has been reported that NPO Mashinostroyeniya is engaged in the design of the complex and its serial production will be launched in the coming years at the Strela plant in Orenburg.

Navy Recognition understands that early rumors indicate the Indo-Russian BrahMos II hypersonic cruise missile may be an export variant of the Zirkon (just as the BarhMos missile share many similarities with the Russian P-800 Oniks missile).

The planned operational range of the BrahMos-II is about 300 kilometers and its speed is set to be around Mach 7 thanks to a ramjet engine.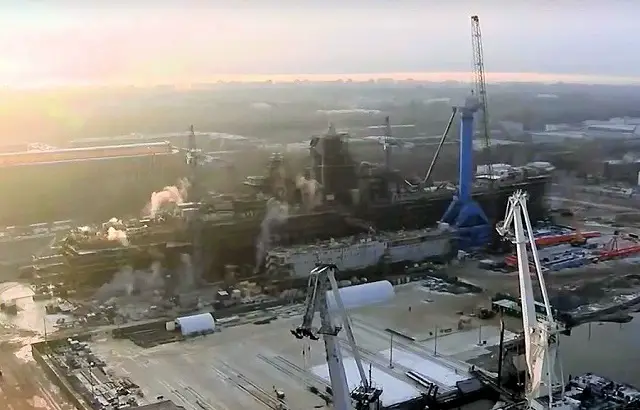 Admiral Nakhimov heavy nuclear-powered missile cruiser (TARKR) currently under refit at Sevmash shipyard in Severodvinsk.

Head of the Tactical Missile Armaments Corporation (Russian acronym: KTRV), Boris Obnosov said that work on the creation of hypersonic weapons is proceeding according to schedule. The implementation of the program had to resolve at least two complicated engineering tasks: to protect the hull of 3M-22 missile from high temperatures and neutralize the effect of the plasma cloud that emerges around the missile.

According to Russian Deputy Defense Minister Dmitry Bulgakov, completely new fuel Detsilin-M was designed in Russia for hypersonic cruise missiles. "Russian army has been supplied in recent years with Detsilin-M fuel which expands the range of strategic cruise missiles by 250-300 km. It will be used as fuel for jet engines of new hypersonic strategic cruise missiles", he said.

Similar mass-dimensional characteristics of new generation seaborne cruise missiles allowed providing universal 3R-14UKSK-KH launchers for them which can fire supersonic Onix, hypersonic Zirkon and subsonic Caliber-NK.

The rearming of Petr Veliky cruiser is planned as follows: for the time being the attack missile weapons will comprise twenty cruise ASMs P-700 Granit with a range of up to 550 km. Their SM-233 launchers are located below the upper deck of the cruiser. Modernization of the cruiser which is to begin in 2018 will see the launchers dismantled and replaced by ten 3R-14UKSK-KH-11442M cells which can fire eight 3M-22 missiles each.
Petr Veliky will be the second warship armed with Zirkon. It will be preceded by heavy nuclear missile cruise

Admiral Nakhimov (Project 11442) which is to complete modernization at Severodvinsk shipyard in 2018. Thus, the Russian Navy will have two nuclear cruisers by 2020 carrying eighty new-generation cruise missiles each.

© Copyright 2015 TASS. All rights reserved. This material may not be published, broadcast, rewritten or redistributed.