a
Naval Industry News - USA
Austal receives $14 Million Littoral Combat Ship Special Studies and Analyses modification
Austal USA was awarded a $14 million Littoral Combat Ship contract modification by the U.S. Navy to conduct special studies and analyses, the Navy announced this week. This is the second $14 million LCS modification contract for Austal USA this month.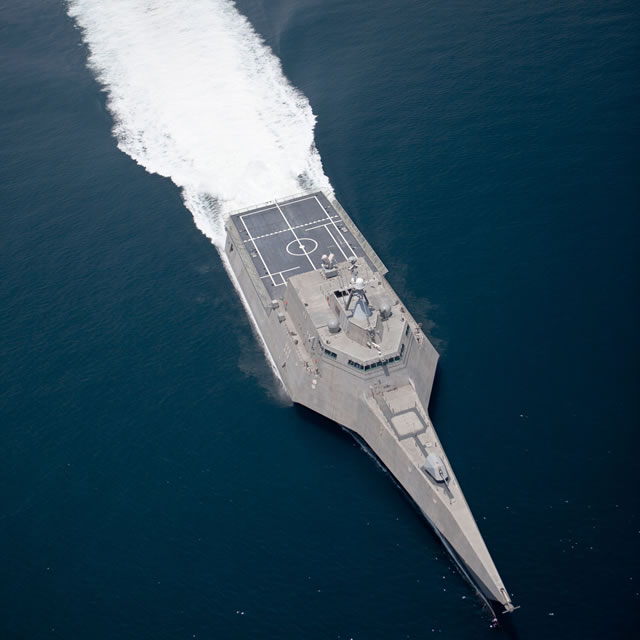 Top side view of an Independence class Littoral Combat Ship. US Navy picture

This award is an option exercised by the Navy to modify the original LCS 10-ship block-buy contract to allow for continued review of the program.
"Our workforce is strong, the production line is hot, and our LCS program has a great deal of momentum right now," said Austal USA President Craig Perciavalle. "Our partnership with the Navy remains strong as we continue to deliver the LCS and prepare for the advanced high-speed future frigate."
Austal will provide engineering and design services to reduce acquisition and lifecycle costs for the Independence-variant LCS.
The company was awarded $14.656 million in LCS modifications, Mar. 2, to perform planning and implementation of design changes identified during construction periods. The corrections and upgrades support sail-away and follow-on post-delivery test and trial periods.
The USS Independence (LCS 2) has sailed over 86,000 nautical miles since delivery while the USS Coronado (LCS 4) has sailed over 23,000 miles, executing the Navy's traditional post-delivery test and trials schedule.
Austal USA is currently building ships under a $3.5 billion LCS 10-ship block-buy contract and $1.6 billion Expeditionary Fast Transport (EPF) 10-ship block-buy contract both from the U.S. Navy. Seven LCS and three EPF are currently under construction at the company's headquarters and ship manufacturing facilities in Mobile, Alabama.

Link to Independence class Littoral Combat Ship technical datasheet