a
Naval Forces News - UK
3rd Astute Class SSN Submarine HMS Artful Commissioned with Royal Navy
Astute Class submarine HMS Artful has officially become a Commissioned Warship of the Royal Navy at a ceremony at HM Naval Base Clyde on March 18 2016. Guest of honour at the ceremony was the submarine's sponsor Lady Zambellas, who had named Artful in September 2013, before her launch in May 2014, in Barrow in Furness.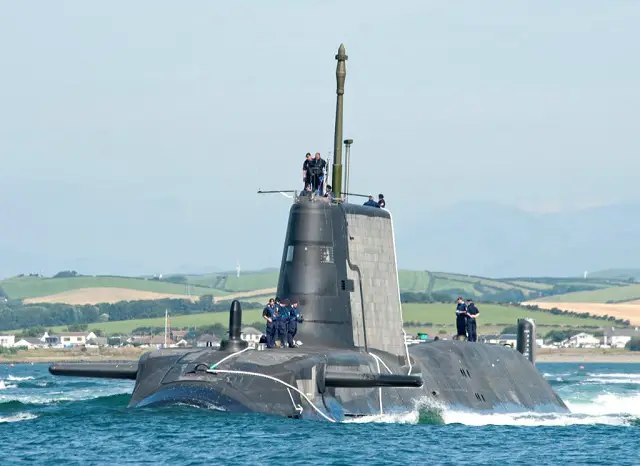 Artful is the latest to be handed over to the Royal Navy, joining her sister submarines, HMS Astute and HMS Ambush. The four remaining submarines are at various stages of construction in Barrow-in-Furness, Cumbria. Picture: BAE Systems

Amanda Zambellas was joined by her husband Admiral Sir George Zambellas, the First Sea Lord and head of the Naval Service, representatives of the companies involved in Artful's construction and operation as well as the submarine's 150 crew, their families and friends.

"This is a red letter day that marks the beginning of the next crucial stage of development for the Royal Navy and its Submarine Service, " said Admiral Sir George Zambellas, First Sea Lord and Chief of Naval Staff.

Since she was handed over to the Royal Navy by BAE Systems Submarines in December 2015, Artful has been conducting trials to prove her systems and equipment at sea, ahead of her first operational deployment later in 2017. The highlight of the trials was the firing of six heavyweight Spearfish torpedoes on the British Underwater Testing and Evaluation Centre near the Isle of Skye.

Artful is the first of the Royal Navy's submarines to be fitted with the Common Combat System (CCS), which is regarded as the digital 'brain' of the boat controlling its 'eyes', 'ears' and 'nervous system'.