a
Naval Forces News - China
China's PLAN Received about 200 Kh-59MK Anti-Ship Missiles for Su-30MK2 by end-2015
China had received about 200 Kh-59MK (NATO reporting name: AS-13 Kingbolt) anti-ship missiles (ASM) by end-2015, according to the Stockholm International Peace Research Institute`s (SIPRI) arms trasnfer database.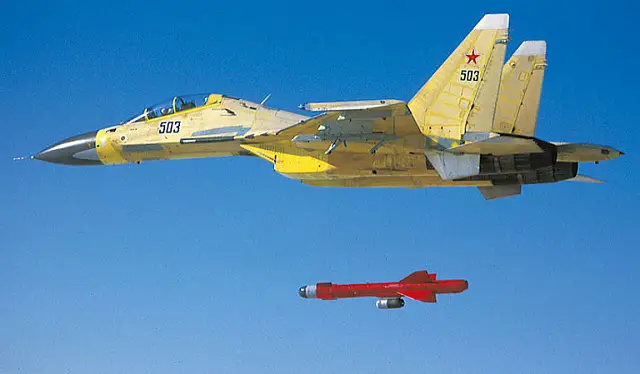 A Kh-59MK2 test round is launched from a Su-30MK Flanker G. KnAAPO picture.

The deliveries of Russian Kh-59MK missiles intended for Chinese Su-30MK2 (Flanker-G) multirole fighters started in 2008. As of end-late, China got about 200 Kh-59MKs. SIPRI emphasizes, that Chinese Armed Forces may have received both Kh-59MK and Kh-59MK2 modifications of the missile.

Kh-59MK is an anti-ship missile developed by the Tactical Missiles Corporation (Russian acronym: KTRV) for Su-30 Sukhoi fighters. It has a maximum flight range of 285 km, a maximum speeed of 0,9M, and a warhead weight of 320 kg. It is equipped with ARGS-59 active radar-homing seeker.

Kh-59MK2 air-to-surface missile is a modification of Kh-59MK intended for destruction of static targets at distances up to 285 km. It can be equipped with either penetrating (320 kg) or pellet (285 kg) warhead.

The Su-30MK2 is a variant of the Su-30 designed for dedicated use as a maritime strike aircraft, thus these aircraft ordered by China are currently being operated by the PLAN Naval Air Force.

© Copyright 2015 TASS. All rights reserved. This material may not be published, broadcast, rewritten or redistributed.