a
Naval Defense Industry News - USA
Exclusive: First Image of the Lockheed Martin LRASM Top Side Launcher
Lockheed Martin supplied Navy Recognition with the first image showing a deck-mounted quadruple Long Range Anti-Ship Missile (LRASM) launcher. According to our source, this "top side" launcher graphic is a notional concept that could be used on an appropriately sized surface vessel, such as the Arleigh Burke class (DDG 51) or Littoral Combat Ship (LCS) classes.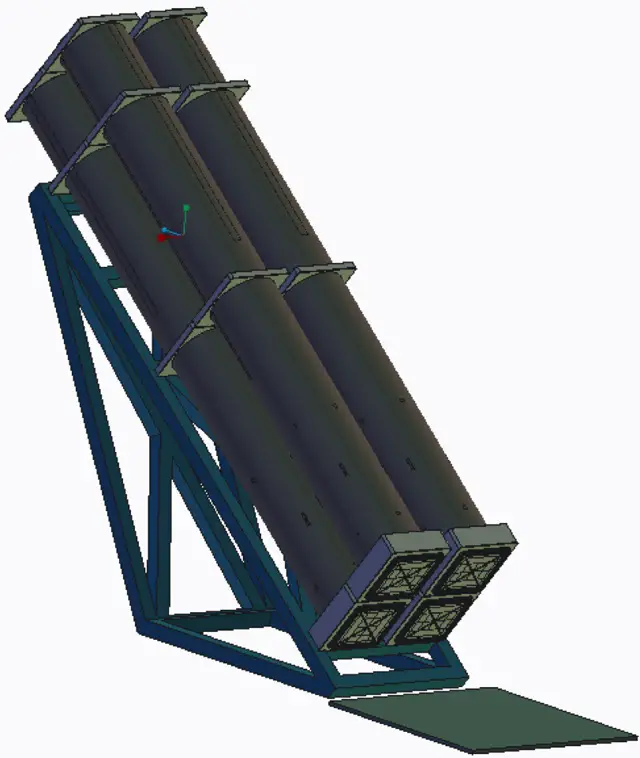 Computer rendering of a top side (deck mounted) LRASM launcher. Four missile canisters per launcher. Image: Lockheed Martin
Back in January,
during the SNA 2016 show
, we learned that in its deck mounted configuration, a LRASM launcher would have the exact same footprint as a Harpoon launcher. Lockheed Martin confirmed this is still accurate:
"Dimensions and configuration specifics are not publicly releasable at this time, but in general, we are comparable to the Harpoon launcher in space, weight, power and cooling parameters that the U.S. Navy would require. Lockheed Martin is currently maturing the design of the topside launcher concept and intends to demonstrate the capability in the future"
a Lockheed Martin representative said.
Successful boosted test vehicle flight demonstrating LRASM missile egress, flight with existing Mk-114 ASROCK booster and Mk-41 VLS canister design.
Our source added
"Lockheed Martin views LRASM as a viable addition to a "family" of surface-launched OASuW weapons in support of the Navy's 'Distributed Lethality' concept. We have invested in the design of a topside (or deck-mounted) launcher configuration that will allow for easy integration on multiple surface ships. The missile configuration for this topside launcher is identical to the LRASM Surface Launch missile that has been proven in two previous successful flight tests - our internally-funded BTV and DARPA-funded CTV - making it low-risk and affordable. We are investing our own funding to lower risk and to mature all aspects of surface ship integration of LRASM whether the platform has a Mk 41 VLS or uses a deck-mounted launcher."
The vertical launched LRASM was successfully tested in September 2014.
Navy Recognition
also reported during the SNA show that LRASM could potentially come with land attack capability. While this capability is not part of the current (OASuW increment I) set of requirements (increment II requirements have not been released yet), we were told that a software update would provide LRASM with such capability. This is because LRASM is based on the AGM-158 JASSM (Joint Air-to-Surface Standoff Missile) standoff land attack cruise missile.
The LRASM is a long-range subsonic cruise missile designed for better range and survivability than current anti-ship weaponry. This missile development program is a joint effort of the Defense Advanced Research Projects Agency, Naval Air Systems Command and the United States Air Force.
To learn more:
Link to LRASM Long Range Anti-Ship Missile technical datasheet