a
Naval Forces News - Russia
Evaluation of New Project 677 Lada Class SSK Submarine Meeting Russian Navy Expectations
The operational evaluation of the Project 677 diesel-electric submarine St. Petersburg has met the expectations of the military and will be completed by the yearend, CEO of Russia's Rubin Central Design Bureau for Marine Engineering Igor Vilnit told TASS.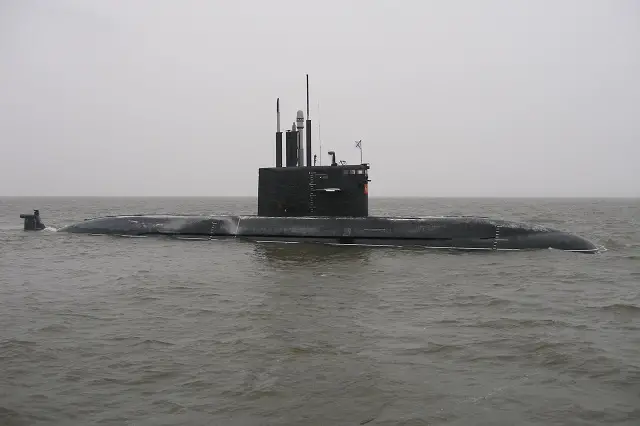 Lada class Diesel Electric Submarine (SSK) Project 677
The Rubin Central Design Bureau for Marine Engineering is the developer of the Project 677 submarine. Russia's United Shipbuilding Corporation said in the spring of 2016 that the operational evaluation of the diesel-electric submarine St. Petersburg was planned to be completed this year.

"As far as we know, the Russian Navy is planning to complete the submarine's operational evaluation this year. The results have met expectations and confirmed that submarines of this type will be considerably prospective," Vilnit said.

During the six year-long operational evaluation, the submarine's mechanisms have been checked and its tactics were tested. The submarine is also being used for personnel training.

"Initially, the Lada-class submarine was planned to be the most advanced ship. New military hardware was developed for this submarine and it was necessary to test it," the CEO said.

"Considering the operational evaluation and the fact that advanced radio electronic equipment and other systems were developed, the Rubin Design Bureau has worked out an improved project being used by the Admiralty Wharves Shipyard [in St. Petersburg in northwest Russia] to build two ships of the same type," he added.

As of today, the submarine St. Petersburg is the sole Project 677 ship operational with the Russian Navy. Work to construct the submarine began in 1997. In 2010, it was delivered to the Navy. Another two Project 677 submarines, the Kronstadt and Velikiye Luki, are currently under construction in St. Petersburg.

The Admiralty Wharves Shipyard expects to sign a contract for the construction of the fourth Project 677 submarine in 2018. .

© Copyright 2016 TASS. All rights reserved. This material may not be published, broadcast, rewritten or redistributed.