a
Naval Forces News - Russia
Russian Navy Will Not Upgrade all its Project 949A Oscar II SSGN Submarines into 949AM Variant
The Russian Navy is planning to upgrade only a part of operational Project 949A (Antey-class, NATO reporting name: Oscar II) nuclear-powered submarines armed with cruise missiles (SSGN), CEO of Russia's Rubin Central Design Bureau for Marine Engineering Igor Vilnit told TASS.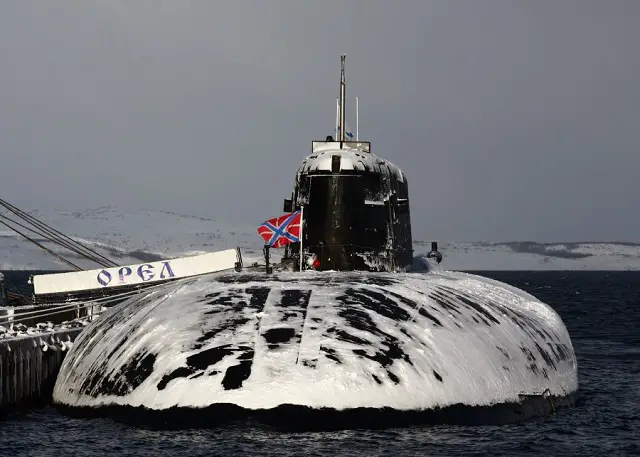 Russian Navy Northern Fleet Orel (K-266), a Project 949A SSGN (NATO designation: Oscar II)

"This will concern not all submarines. There are certain projects that are currently being implemented," Vilnit said in reply to the relevant question.

According to the CEO, work to upgrade submarines of this type is in full swing at the Zvezda Shipyard in Russia's Far East. The shipyard is currently modernizing the Project 949A nuclear-powered attack submarines Irkutsk and Chelyabinsk.

The upgrade will allow considerably extending the service life of these submarines, Vilnit said.

"The talk is about serious upgrade work rather than simple repair. Advanced radio technical equipment has been developed and will be mounted on submarines of this type," the CEO added.

It was reported earlier that the Russian Navy was planning to upgrade about ten Project 949A and 971 nuclear-powered submarines. Earlier, there were plans to upgrade 945A submarines as well.

At present, Russian Navy has deployed eight Project 949A SSGNs.

The Project 949A nuclear-powered submarine has a length of 155 meters, a displacement of 24,000 tons, a depth of submersion of 600 meters and an underwater speed of 32 knots. Its crew totals 107. The Project 949A nuclear-powered submarine is armed with six torpedo tubes and 24 launchers to fire Granit cruise missiles with a range of about 500 kilometers (311 miles).

© Copyright 2016 TASS. All rights reserved. This material may not be published, broadcast, rewritten or redistributed.