a
Naval Forces News - Russia
Russian Navy Oscar II Submarine Orel Launched Following Repairs
The Russian Northern Fleet's Project 949A Antey-class nuclear-powered cruise missile submarine (SSGN) K-266 Orel (NATO reporting name: Oscar II-class), which suffered fire in spring 2015, has been launched in Severodvinsk following her repair. It shall have returned to service before the end of the year, the Zvyozdochka Shipyard's press office told TASS.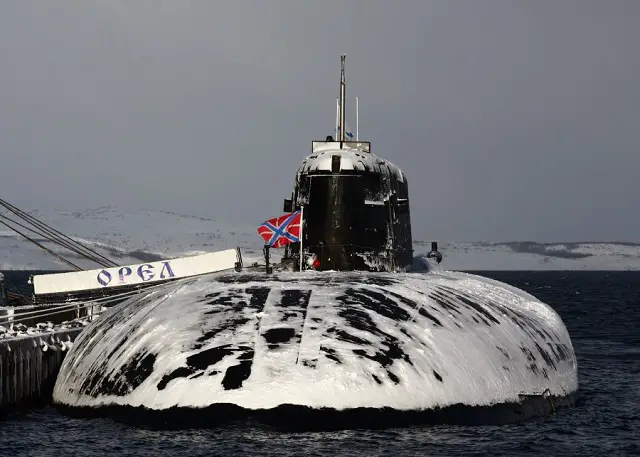 Russian Navy Northern Fleet Orel (K-266) SSGN (NATO designation: Oscar II). File picture.

The Northern Fleet's Orel was brought to Zvyozdochka's dock in April 2014. The submarine caught fire on April 7, 2015, when the rubber coating insulation between the two hulls at the stern took fire. The incident produced no casualties. Zvyozdochka called the resultant damage insignificant. The cause of the fire was the violation of the safety regulations by workers.

The Orel will be the third Project 949A nuclear-powered submarine repaired by Zvyozdochka. The company has repaired the Voronezh and Smolensk of the same class. The shipyard repair is expected to extend the Orel's service life by 3.5 years.

The Project 949A nuclear-powered submarine has a length of 155 meters, a displacement of 24,000 tons, a depth of submersion of 600 meters and an underwater speed of 32 knots. Its crew totals 107. The Project 949A nuclear-powered submarine is armed with six torpedo tubes and 24 launchers to fire Granit cruise missiles with a range of about 500 kilometers (311 miles).

© Copyright 2016 TASS. All rights reserved. This material may not be published, broadcast, rewritten or redistributed.