a
Naval Industry News - USA
HII Successfully Completes Acceptance Trials For National Security Cutter Munro
Huntington Ingalls Industries' (HII) Ingalls Shipbuilding division announced that the company's sixth U.S. Coast Guard National Security Cutter (NSC), Munro (WMSL 755), has successfully completed acceptance trials. Munro spent two full days in the Gulf of Mexico proving the ship's systems.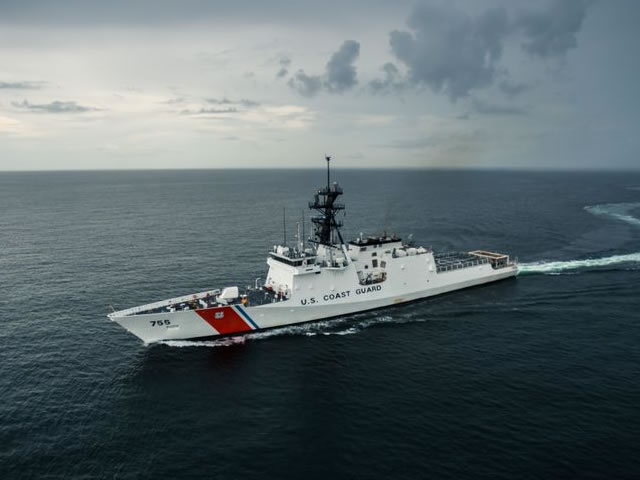 The National Security Cutter Munro completed builder's sea trials in August.
Photo by Lance Davis/HII
"Once again Ingalls shipbuilders have shown the benefits of a hot production line," said Ingalls Shipbuilding President Brian Cuccias. "Munro is the sixth NSC we have built for the United States Coast Guard, and the ship accomplished a successful sea trial. Our shipbuilders are proud to provide the United States Coast Guard with the most technologically advanced ships that help keep Coast Guard men and women safe as they defend our shores."

The U.S. Navy's Board of Inspection and Survey (INSURV) were on board, as Ingalls' test and trials team led the sea trials and conducted extensive testing of the propulsion, electrical, damage control, anchor-handling, small boat operations and combat systems. The team finished the trial with a completed full-power propulsion run on Munro.

"In three years' time, our shipbuilders have transformed steel, cables, pipe and raw materials into a highly capable, state-of-the-art National Security Cutter that will protect the men and women of the United States Coast Guard," said Derek Murphy, Ingalls' Coast Guard program manager. "Our shipbuilders continue to raise the standard of fit and finish and quality of each ship."

Ingalls has delivered the first five NSCs and has three more under construction, including Munro (WMSL 755), set to deliver before the end of the year. Kimball (WMSL 756) is scheduled for delivery in 2018, and Midgett (WMSL 757) in 2019.

Munro is named to honor Signalman First Class Douglas A. Munro, the Coast Guard's sole recipient of the Medal of Honor. He was mortally wounded on Sept. 27, 1942, while evacuating a detachment of Marines on Guadalcanal.

Legend-Class National Security Cutters are the flagships of the U.S. Coast Guard. They are the most technologically advanced ships in the Coast Guard's fleet, with capabilities for maritime homeland security, law enforcement and national security missions. NSCs are 418 feet long with a 54-foot beam and displace 4,500 tons with a full load. They have a top speed of 28 knots, a range of 12,000 miles, an endurance of 60 days and a crew of 120. The Legend class of cutters plays an important role in enhancing the Coast Guard's operational readiness, capacity and effectiveness at a time when the demand for their services has never been greater.