a
Naval Aviation News - Russia
Russian Navy Black Sea Fleet Naval Aviation Squadron Received Additional Su-30SM Fighter
Russia's Black Sea Fleet has received an advanced Sukhoi Su-30SM (NATO reporting name: Flanker-C) multipurpose fighter jet designated as Sevastopolsky, fleet spokesman Nikolai Voskresensky said.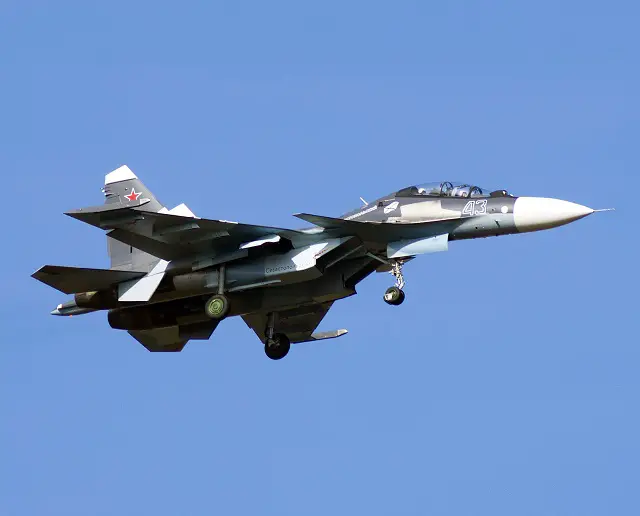 The latest Su-30SM of the Russian Navy Black Sea Fleet with "blue number 43" on 01/10/2016.
Picture via bmpd.livejournal.com / Yuriy husk / VKontakte

"An advanced Su-30SM multipurpose fighter jet has arrived for a separate assault air regiment of Russia's Black Sea Fleet," the spokesman said. "This is the ninth fighter jet to join the Black Sea Fleet," he added.

According to Voskresensky, the plane has received '43 blue' side number "corresponding to the number of the regiment" and has been designated as Sevastopolsky.

The Black Sea Fleet is expected to receive several more Su-30SM fighter jets before the yearend, the spokesman added.

The Su-30SM multipurpose supermaneuverable fighter jet has been developed on the basis of the Su-30MKI export version. The plane's weapons and radar, communications and identification friend-or-foe systems have been improved to meet the Russian Defense Ministry's requirements. The first contracts for the delivery of Su-30SM fighter jets to Russia's Armed Forces were signed in 2012.

© Copyright 2016 TASS. All rights reserved. This material may not be published, broadcast, rewritten or redistributed.
Su-30SM of the Russian Navy Black Sea Fleet in demonstration at MAKS 2015. Picture: V. Kuzmin

Navy Recognition Comments

Russia will replace all of its Su-24 Fencer bomber jets operating in the Black Sea Fleet on the Crimean Peninsula with Su-30SM Flanker multirole fighters by 2020, the head of the Russian Black Sea Fleet's Naval Aviation announced earlir this year.

According to Irkut Corporation, Su-30SM are super maneuverable twin engine jets, equipped with phased array radar, thrust vectoring engines and canards. The fighter is able to use modern "air-to-air" and "air-to-surface" high-precision weapons.

The Russian Navy Su-30SM are not intended for the Russian aircraft carrier Admiral Kuznetsov but operate from naval aviation bases on land. They have a two-tone dark gray camouflage and bear a St. Andrew's flag (Russian Navy Ensign) painting by the cockpit.