a
Maritime Security News - USA
General Dynamics Awarded $126 Million USCG Contract for Rescue 21 Search and Rescue Program
The U.S. Coast Guard awarded General Dynamics Mission Systems a $125.6 million follow-on contract to provide Rescue 21 program management, system support and maintenance and sustainment engineering support for the U.S. Coast Guard Command, Control, and Communications Engineering Center.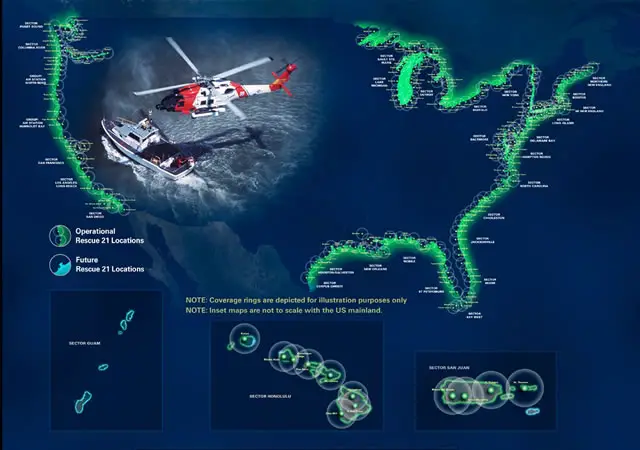 Rescue 21 is "standing the watch," providing coverage of more than 40,600 miles of U.S. coastline.

Rescue 21 is the U.S. Coast Guard's advanced command, control and direction-finding communications system. The system was created to better locate mariners in distress, save lives and property at sea and on navigable rivers. By harnessing state-of-the-market technology, the General Dynamics-built Rescue 21 system enables the Coast Guard to execute its search and rescue (SAR) activities with far greater agility and efficiency. Rescue 21 is operational along the entire Atlantic, Pacific and Gulf coasts of the continental United States as well as along the shores of the Great Lakes, Puerto Rico, U.S. Virgin Islands, Hawaii, Guam and Mariana Islands.

"Mission Systems is proud to work with the Coast Guard on this critical SAR program," said Chris Marzilli, president of General Dynamics Mission Systems. "Since its implementation, the Coast Guard has supported more than 90,000 SAR cases using Rescue 21. This system saves lives."

Mission Systems will continue to provide customer care, field support and engineering escalation resources as well as support for information assurance, spare parts and obsolescence management, and pursue life-cycle cost savings.

"We will continue to leverage the best technology and deliver superior program management to improve Rescue 21 mission readiness," commented Bill Weiss, vice president and general manager of the Ground Systems line of business at General Dynamics Mission Systems. "We're proud to be a part of this important program, and deeply value the Coast Guard's confidence in us."

The 36-month award consists of a base period with three option periods from September 2016 through August 2019.

Rescue 21 comprises 253 towers and 32 command centers in full operation that cover more than 41,000 miles of U.S. coastline, lakes and rivers. When a distress call arrives, the system automatically records the call while direction-finding equipment on the towers accurately computes the call's location, allowing search-and-rescue operations to begin immediately. The system is also designed to accommodate additional sensors and command and control equipment as it becomes available, which will deliver new and cost-effective capabilities to the Coast Guard.