a
Naval Forces News - Qatar
First Ares Patrol Vessels with MTU Engines Enter Service with Qatari Coast Guard
Qatar's Coast Guard Command has taken delivery of the first in a series of 17 composite hull boats powered and propelled by MTU high-speed engines and Rolls-Royce Kamewa waterjets.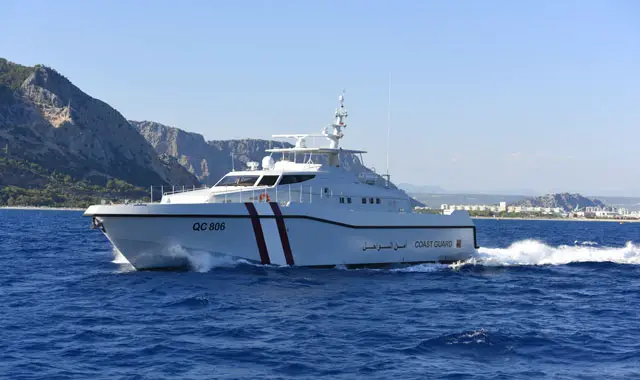 Qatar Coast Guard Ares 110 Hercules Patrol Boat built by Turkish company Ares Shipyard. Picture: Rolls-Royce
The vessels, two Ares 75 and one Ares 110 Hercules, will be the first three boats of this programme to be delivered by the end of this month. Two additional boats are planned to be delivered by the end of the year; one Ares 75 and one 110 Hercules. Meanwhile, preparations for the construction of the first Ares 150 class boat have already been completed and its launch is expected towards the end of next year.

Rolls-Royce is supplying a total of 46 engines and waterjets, across the three different sizes of craft in a deal worth over £15 million. The project covers the delivery of five 24m Ares 75 Hercules, ten 34.5m Ares 110 Hercules, and two 48m Ares 150 Hercules boats.

The Ares 75 and 110 Hercules vessels are powered by MTU 12V 2000M84 diesel engines with Rolls-Royce Kamewa 50A3 series waterjets. The two largest craft, the 47m Ares 150 Hercules design, will each feature three MTU Series 4000 diesels and twin 71S4 water jets with B4 boosters.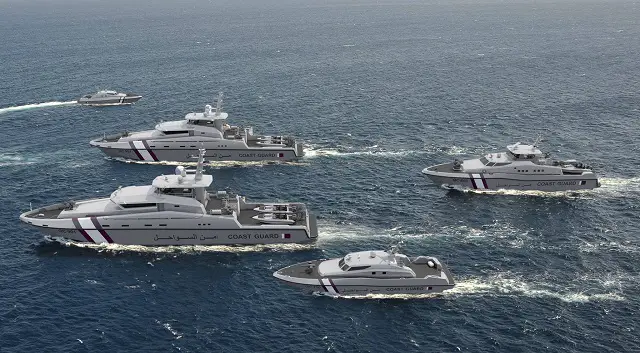 Artist impression showing the various patrol boats ordered by Qatar
Coast Guard. On the left: two Ares 150 Hercules, on the right Ares 110 Hercules, at the bottom Ares 75 Hercules. Image: Ares Shipyard

With power outputs up to 2060kW, the Kamewa A3 series delivers up to 3 percent better energy-efficiency compared to the earlier model. This – together with a reduced footprint on the vessel, lower weight and life-cycle costs – equates to a substantial reduction in fuel costs and CO2 emissions.

Kerim Kalafatoglu, Chairman & Executive Director of Ares Shipyard, said: "The performances of the first Ares 75 and 110 Hercules have been higher than expected or required by the specifications, and have benefitted from the combination of the most advanced ship building techniques, modern equipment and systems, and advanced composite materials with Rolls-Royce power and propulsion."

Don Roussinos, Rolls-Royce, President – Naval, said: "The combination of Rolls-Royce Kamewa waterjets and MTU high-speed diesel engines with Ares' composite vessels will provide Qatar's Coast Guard Command with fast, manoeuvrable and efficient vessels ideally suited to carrying out their duties."

The vessels are being built at the Ares Shipyard,located in Antalya on the South Coast of Turkey. The yard has been operating since 2006 and is a specialist in the manufacture of fast patrol craft up to 70 metres in length for both military and civil applications.