a
Naval Forces News - China
First Picture of China's New YJ-12A Anti-Ship Missile During Launch Revealed
Ahead of Airshow China 2016 due to start this week in Zuhai, the first ever picture showing a YJ-12A new generation surface launched anti-ship missile has been released. The YJ-12A is the latest supersonic anti-ship missile of the People's Liberation Army Navy (PLAN). It was unveiled for the first time last year during the victory day parade.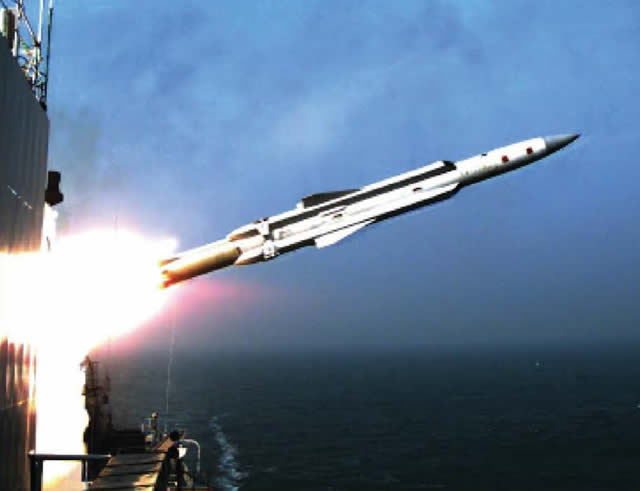 The first ever picture of the PLAN's YJ-12A
in its launch phase, with booster attached.

YJ-12A is the surface launched variant of the air launched YJ-12. YJ-12 first picture emerged in 2013. The missile appears somewhat similar in design to the Russian Kh-31 air to surface missile or to the US made GQM-163A Coyote which is a supersonic sea skimming target.

Like the missiles mentioned above, the Chinese missile uses ramjet technology: Airbreathing jet engine using the engine's forward motion to compress incoming air, without a rotary compressor. It allows missiles to reach very high speeds.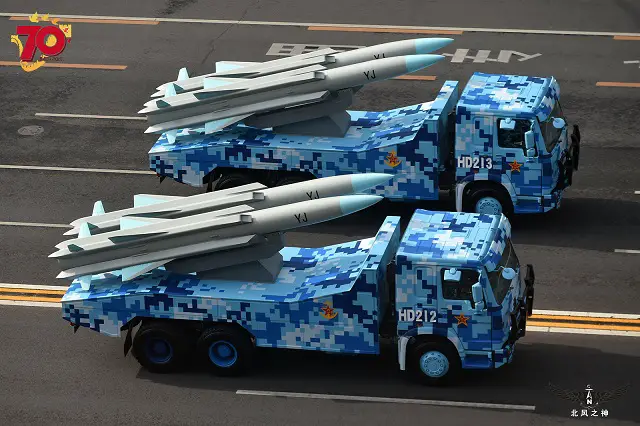 The YJ-12A is a next generation Chinese supersonic anti-ship missile. It was unveiled for the first time last year during the victory day parade.

The YJ-12 (YingJi meaning Eagle Strike) was designed by the Third Academy of the China Aerospace Science and Industry Corporation "CASIC" (HiWING Mechanical & Electrical Technology Corporation). It is fitted with liquid-fueled ramjet (with a combined booster and combustion chamber).

Its reported speed is around Mach 2 if launched from a low altitude and up to Mach 3.2 if launched from high altitude. According to Chinese sources, the YJ-12 maximum range is around 380 kilometers (the distance varies depending on launch altitude) and its terminal attack altitude is 15 meters. Finally the missile would be about 6,3 meters long with a diameter below 0,756 meters.

As we reported earlier, the PLAN is currently reffiting its Project 956E Sovremennyy destroyers with the YJ-12A. The future Type 055 Destroyer may be fitted with this anti-ship missile as well.