a
Naval Forces News - Russia
Russian Navy Kirov-class cruiser Admiral Nakhimov Return to Operational Status Slips to 2022
The return to operational status of the Russian Navy's Project 11442M (NATO reporting name: Kirov-class) Admiral Nakhimov nuclear-powered missile cruiser will take place within three to four years, United Shipbuilding Corporation President Alexei Rakhmanov has told the Interfax News Agency.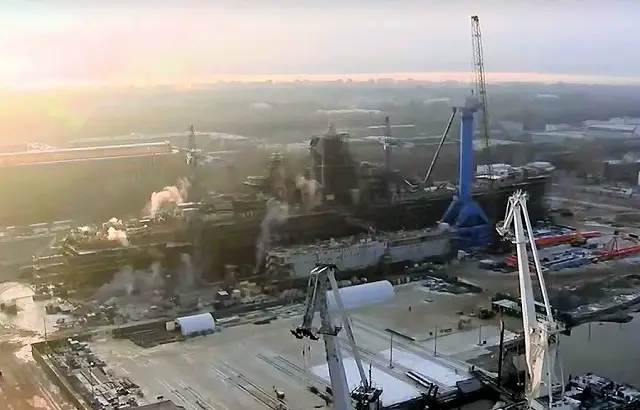 Admiral Nakhimov heavy nuclear-powered missile cruiser (TARKR) currently under refit at Sevmash shipyard in Severodvinsk. Picture: Sevmash shipyard via militaryrussia.ru
"I think we will return the Admiral Nakhimov cruiser to the Navy in 2020-2021. We are working to this end with due account taken of the changes in the amount of work to be done," Rakhmanov said.

Once upgraded, the Admiral Nakhimov will feature characteristics that are far more advanced and she will beef up the Russian Navy considerably. The upgrade will include the replacement of her missile and gunnery weapons, in particular the introduction of long-range cruise missiles organic to the Kalibr (SS-N-27 Sizzler) system.

The Admiral Nakhimov nuclear-powered missile cruiser is designed to destroy high-value surface and land targets and provide air defense for the formation it is part of. The ship was launched in 1986 and commissioned in 1988. She had been moored at Sevmash in Severodvinsk from 1999 to 2012 when a decision was made to rebuild her. The contract for repairing the cruiser was placed in 2013. The Admiral Nakhimov's upgrade to Project 11442M standard will afford the warship the Kalibr missile system. The cruiser displaces 24,500 tons, measures 251 m long, has a full power of 140,000 hp, a speed of 31 knots and a crew of 728 and carries a Kamov Ka-27 (Helix) helicopter or versions thereof.



© Copyright 2017 TASS. All rights reserved. This material may not be published, broadcast, rewritten or redistributed.
File picture: Aerial starboard quarter view of the Russian Northern Fleet Kirov class nuclear-powered guided missile cruiser Admiral Nakhimov (CGN-080) underway.
Navy Recognition Comments
The Sevmash Shipyard launched the modernization of the Admiral Nakhimov to Project 11442M standard on January 24, 2014. The modernization started with dismounting the large equipment and systems subject to replacement or repair. This slashed the structural weight, which, in turn, made it easier to bring the ship from the berth to the flooding dock.

Sevmash and KBSM (Special Machinebuilding Design Bureau) made a deal for 10 modules of 3S14 vertical launch system (VLS) for installation as part of the cruiser's upgrade. The deal's value is estimated at 2.559 billion rubles ($39 million). Thus, 20 SM-225 launchers of the 3K-45 Granit (SS-N-19 Shipwreck) system will be replaced with 10 3S14 VLS modules to accommodate 3M-14 (SS-N-30) land-attack and 3M-54 (SS-N-27A Sizzler) antiship cruise missiles of the Kalibr missile system. The ammunition load will total 80 missiles.

The Project 11442M (NATO reporting name: Kirov-class) Admiral Nakhimov nuclear-powered heavy guided missile cruiser will be equipped with Tsirkon hypersonic missiles during her upgrade, a source in shipbuilding industry previously told TASS. "The Admiral Nakhimov's strike system will be replaced with Tsirkon hypersonic missiles as part of her repair and heavy upgrade," the source said.

It was earlier reported that the first Russian Navy vessel to receive Pantsir-M missile and gun system will be heavy nuclear missile cruiser Admiral Nakhimov. It will also be fitted with a new generation information management system.