a
Naval Forces News - Russia
Oscar II-class Project 949A Submarine Orel Rejoins Russian Navy After Three Years of Repairs
The Project 949A Antey-class (NATO reporting name: Oscar II-class) nuclear-powered cruise missile-equipped attack submarine "Orel" have returned to operational status after repair, according to the press office of the Zvyozdochka Shipyard.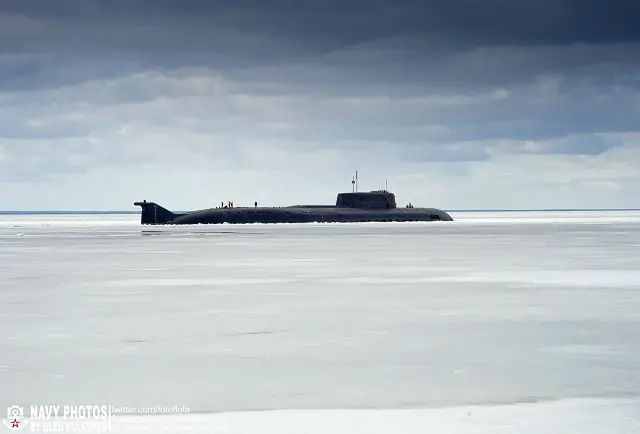 Project 949A Antey-class (NATO reporting name: Oscar II-class) nuclear-powered submarine Orel (K-266) sailing out of Zvyozdochka Shipyard on April 6 2017. Picture by Oleg Kuleshov. More pictures at this links.
"The nuclear-powered submarine has left the shipyard and headed for her home station. The Orel's repair has taken more than three years. Zvyozdochka has maintained all of the systems of the ship - her mechanisms, radio electronics, hull structures and main propulsion plant," the press office reported.

The reactors have been recharged and the weapons suite repaired. The shafting of the submarine has been reconditioned too.

"In the near future, its crew led by Hero of Russia Captain 1st Rank Sergei Novokhatsky and the manufacturer's trial team headed by Mikhail Pozhinsky will check out all of the systems at maritime training areas. After the Oryol has passed the tests, she will be pronounced operational," the shipyard said.

The Northern Fleet's Project 949A K-266 Orel was docked at Zvyozdochka for repair in April 2014. The repair will extend her service life by three years and a half. The Orel is the third submarine in her class to have been repaired by Zvyozdochka. The shipyard completed the emergency repairs of the Voronezh and Smolensk submarines of the same class in November 2011, extending their service lives by three years and a half.

The Project 949A nuclear-powered cruise missile submarines measure 155 m long, displace 24,000 tons, dive to 600 m, have a submerged speed of 32 knots and carry a crew of 107. The ships in the class pack 24 launchers for Granit (SS-N-19 Shipwreck) cruise missiles with a range of about 500 km and six torpedo tubes each.

© Copyright 2017 TASS. All rights reserved. This material may not be published, broadcast, rewritten or redistributed.