a
Naval Industry News - USA
Huntington Ingalls Industries Christened Arleigh Burke-Class Destroyer Paul Ignatius (DDG 117)
Huntington Ingalls Industries' (HII) Ingalls Shipbuilding division christened its 31st Arleigh Burke-class guided missile destroyer, Paul Ignatius (DDG 117), with approximately 1,000 guest in attendance at today's ceremony.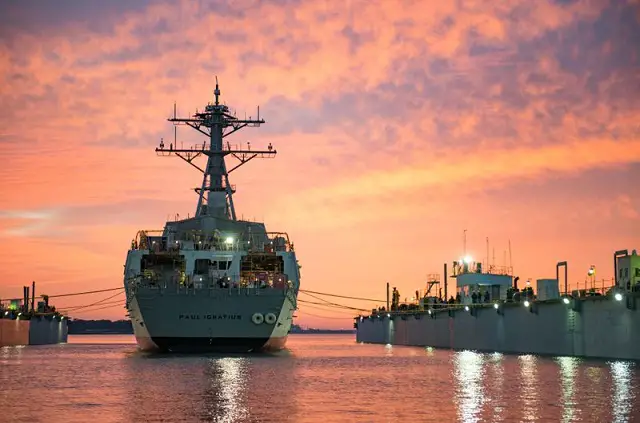 The Ingalls-built destroyer Paul Ignatius (DDG 117) launched at first light Saturday morning, Nov. 12, 2016. It is the second of eight "Flight IIA: Technology Insertion" DDG-51-class variant. Photo by Andrew Young/HII.
"These Arleigh Burke destroyers provide our leaders with the ability to conduct a wide range of missions," said Chief of Naval Operations Adm. John M. Richardson. "That kind of flexibility is increasingly important in the world of maritime competition. … USS Ignatius and her crew will be doing the nation's work, providing credible options to our nation's leaders for decades to come. They'll be respected always, welcome news to our friends and a worst nightmare to our enemies. Our body, the ship, is tough, built with the best materials in the hands of the best shipbuilders and manned by the best crew America can produce."



DDG 117 is named in honor of Ignatius, who served as Secretary of the Navy from 1967 to 1969 and was the Assistant Secretary of Defense during President Lyndon B. Johnson's administration.



Arleigh Burke-class destroyers are capable, multi-mission ships and can conduct a variety of operations, from peacetime presence and crisis management to sea control and power projection, all in support of the United States' military strategy. The guided missile destroyers are capable of simultaneously fighting air, surface and subsurface battles. The ship contains myriad offensive and defensive weapons designed to support maritime defense needs well into the 21st century.