a
Naval Industry News - Russia
Russia's Tekhmash launches production of hydroacoustic coating for latest submarines
The Tekhmash Corporation (a subsidiary of Rostec) has landed orders for special rubber coatings, which will keep it busy for five years. Developed by ChPO Chapayev, the hydroacoustic rubber plates mask submarines from hostile sonars, according to Tekhmash's press office.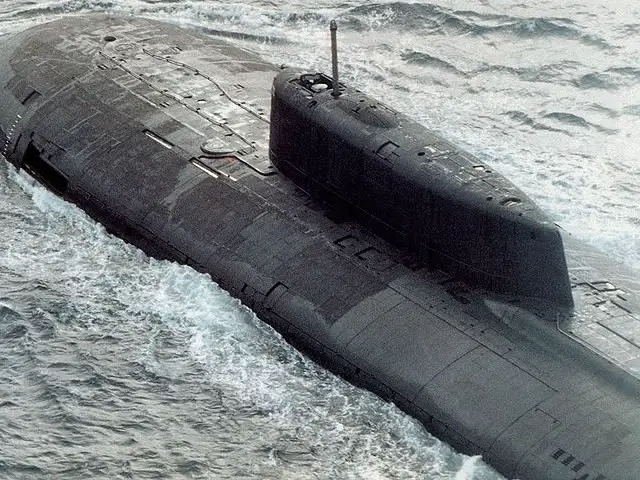 Anechoic tiles visible on a Russian submarine.

"We launched the advanced high-tech manufacturing lines for the special rubber plates in September 2016 and have been awarded a five-year order for the product. The coating features high noise-absorbing capability," Tekhmash Director General Sergei Rusakov said.

"The designers succeeded in reducing the noise almost to the background level. Owing to its design features, the coating effectively absorbs the noise on various frequencies and at various depths, thus reducing the submarine's acoustic signature," ChPO Chapayev Director General Alexander Livshits said.

Tekhmash's ChPO Chapayev makes special coatings featuring different acoustic characteristics for use on diesel-electric and nuclear-powered submarines. As was reported in the press, eight Project 955 Borei-class (NATO reporting name: Dolgorukiy-class) and 955A Borei-M-class nuclear-powered ballistic missile submarines are due for the Navy by 2021 and seven Project 885 Yasen-class (Severodvinsk) and Project 885M Yasen-M-class nuclear-powered hunter-killers by 2023. The Russian Navy will receive two nuclear-powered submarines in 2018 - the Project 885M Kazan hunter-killer and the Project 955A boomer. In addition, the construction of a six-ship Project 636.3 (Improved Kilo-class) diesel-electric submarine series for the Pacific Fleet has been planned.


© Copyright 2017 TASS. All rights reserved. This material may not be published, broadcast, rewritten or redistributed.