a
Naval Forces News - USA
New Aircraft Carrier Gerald R. Ford and "Sea Knights" Provide MEDEVAC Support During Sea Trials
The future USS Gerald R. Ford (CVN 78) conducted a medical evacuation (MEDEVAC) April 11 to assist a Sailor from dock landing ship USS Oak Hill (LSD 51) who required urgent medical attention. The Sailor is currently listed in stable condition and is being treated at Navy Medical Center Portsmouth.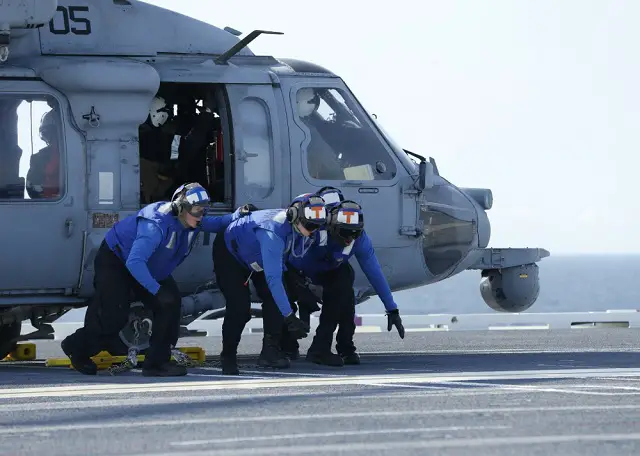 NORFOLK, Va. (April 12, 2017) -- Air department Sailors, assigned to Pre-Commissioning Unit Gerald R. Ford (CVN 78), chock and chain an MH-60S Sea Hawk on Ford's flight deck. The future USS Gerald R. Ford is underway on its own power for the first time. The first-of-class ship -- the first new U.S. aircraft carrier design in 40 years -- will spend several days conducting builder's sea trials, a comprehensive test of many of the ship's key systems and technologies. (U.S. Navy photo by Mass Communication Specialist 3rd Class Sean Elliott)

At approximately 11:30 EST, Ford received a request from Oak Hill for a medical consultation with Capt. Kimberly Toone, Ford's senior medical officer. Following a review of the patient's status and consultation with leadership from multiple commands, the decision was made to evacuate the Sailor from Oak Hill to NMCP.

Ford was in the middle of builder's sea trials and was the closest available responder. An embarked MH-60S helicopter from the "Sea Knights" of Helicopter Sea Combat Squadron (HSC) 22 provided patient transportation.

Following the successful transportation, Capt. Richard McCormack, Ford's commanding officer, addressed the crew and expressed his pride in Ford Sailors and the embarked squadron for their flexibility, mission readiness, and eagerness to help a Shipmate in need.

"We got the word, coordinated the necessary permissions, and were off-deck shortly thereafter," said Cmdr. Jody Smotherman, Ford's combat direction center officer, who helped coordinate communications, approvals and logistical movements.

Smotherman has considerable experience assisting with medical evacuations for fellow service members: in 2010 he was the officer-in-charge of the 2515th Air Ambulance Detachment in Basra, Iraq, where he and his team were responsible to transporting sick and wounded service members and civilians to medical care facilities.

Ford is not the first "first-in-class" ship to provide medical assistance during sea trials. In December 2015, the USS Zumwalt (DDG 1000) was in the middle of sea trials when they received a distress call from a fisherman experiencing chest pains off the coast of Maine. The Zumwalt crew worked with the U.S. Coast Guard to provide prompt medical care.