a
Naval Forces News - Russia
Third Project 11356 Frigate Admiral Makarov in Final Tests before Delivery to Russian Navy in June
The Project 11356 (NATO reporting name: Admiral Grigorovich-class) Admiral Makarov frigate built by the Yantar Shipyard (a subsidiary of the United Shipbuilding Corporation, USC) in Kaliningrad has put out to sea for the final stage of its official tests, according to the shipyard's press officer, Sergei Mikhailov.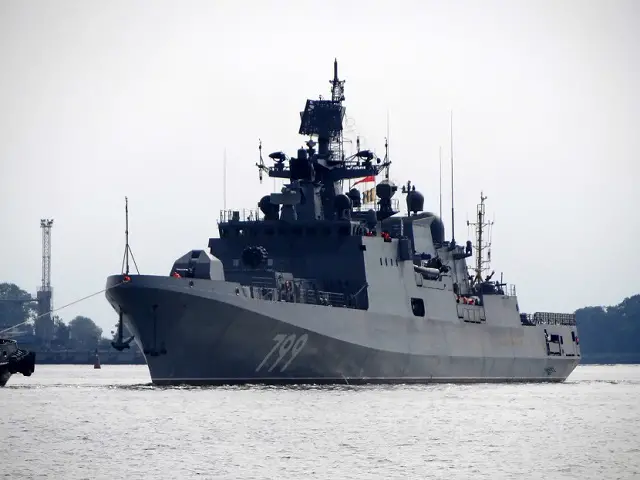 The third Admiral Grigorovich class Frigate of the Russian Navy. Picture: Drakon 64 / forums.airbase.ru
"The Admiral Makarov frigate has departed from the handover facility in the port of Baltiisk for the final phase of its official trials," Mikhailov said, noting that there were the shipyard handover crew and governmental commission members onboard the ship in addition to its military crew.

The tests of the frigate are slated to end in May. Until then, it may conduct several sorties. As was reported in the press, the Admiral Makarov will take part in the naval parade in St. Petersburg on the Russian Navy Day.

The ship kicked off its official tests in October last year. They have been taking place in the Baltic and Barents seas. The test program had been completed by late December save for the test firing of the Shtil-1 (SA-N-12 Grizzly) air defense missile system. The Shtil-1's manufacturer in conjunction with the ship's handover crew was fixing the problem during the first quarter of 2017. In early April, the Admiral Makarov moved from the Yantar Shipyard to the handover facility in Baltiisk. Earlier, Russian Deputy Defense Minister Yuri Borisov had said the ship's delivery date could slip behind schedule.

The Project 11356 frigate Admiral Makarov is the third vessel in the series. It was laid down by the Yantar Shipyard on February 29, 2012 and floated out on September 2, 2015. The ship was planned to be delivered to the customer before the end of 2016. The first two Project 11356 frigates Admiral Grigorovich and Admiral Essen were handed over to the customer on March 11, 2016 and June 7, 2016, respectively.



© Copyright 2017 TASS. All rights reserved. This material may not be published, broadcast, rewritten or redistributed.