a
Naval Forces News - Russia
Dockside repairs of Russian Navy Project 865 Romuald Muklevich survey vessel completed
The Kronstadt Marine Plant (a subsidiary of the United Shipbuilding Corporation, USC) has completed the dockside repair of the Project 865 Romuald Muklevich hydrographic survey vessel. The Northern Fleet's survey vessel left the F.V. Nitrofanov Dock ahead of schedule, having sat there since mid-January this year, according to USC's press release.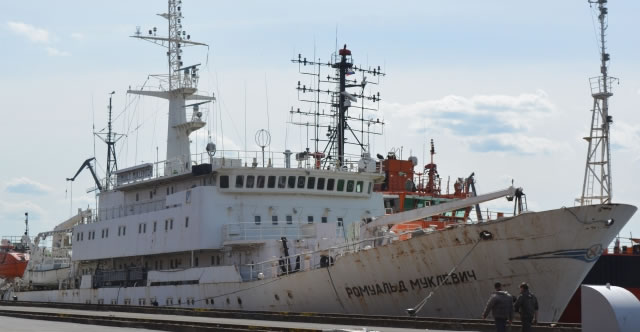 The Project 865 Romuald Muklevich vessel before repairs. Picture: Kronstadt Marine Plant.
The Romuald Muklevich arrived at the shipyard in June 2016 for maintenance and overhaul designed to take it two years and to include a large amount of repair and upgrade work through hardware replacement.

During the dockside repair, the fault detection of the underwater section of its hull, surface skin replacement and weld overlaying were conducted. The underwater and above-water parts of the hull was cleaned and primed, and the underwater and most of the above water portions of the hull were painted, as was the superstructures. Concurrently, the shafting, variable-pitch propeller, bow and stern thrusters, anchorage apparatus, rudder, automatic devices, power supply system, deck, etc., were repaired. The repair and finishing of the compartments is in progress. Preparations for dockside and running trials are under way. The repair of the survey vessel is to be completed in 2018.

The Project 865 Romuald Muklevich vessel was built in Poland and commissioned in 1991. It is assigned to the Russian Navy's Northern Fleet. The ship is 86.3 m long and 15.2 m abeam, with its hull height being 9.5 m.



© Copyright 2017 TASS. All rights reserved. This material may not be published, broadcast, rewritten or redistributed.