a
Naval Industry News - USA
HII Christens Virginia-Class Block III Submarine Indiana at Newport News Shipbuilding
Huntington Ingalls Industries' (HII) Newport News Shipbuilding division today celebrated the christening of Indiana (SSN 789), the 16th Virginia-class submarine. With a single swing, ship's sponsor Diane Donald performed the traditional honor of breaking a bottle of American sparkling wine across the submarine's hull. Donald is the wife of Adm. Kirkland Donald (U.S. Navy, Ret.), former director, Naval Nuclear Propulsion.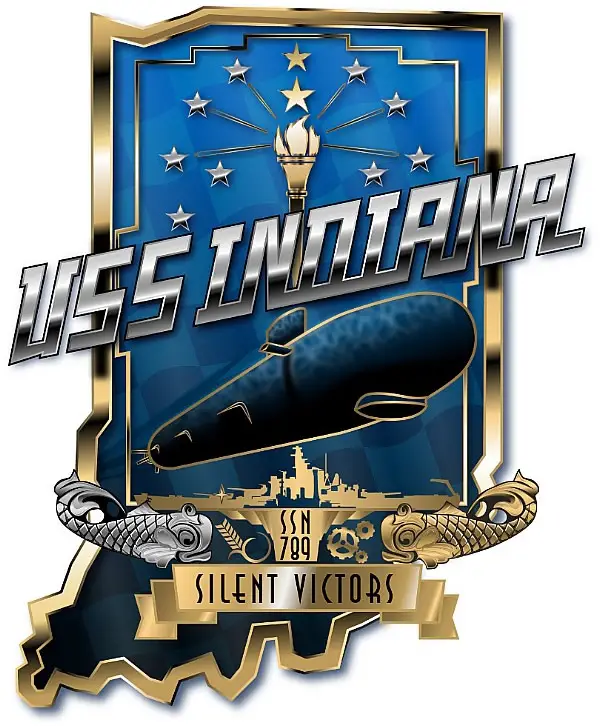 Crest of USS Indiana. Image: US Navy

"It's the honor of a lifetime to be here today," said Donald. "While the size of the submarine alone is stunning, the complexity inside sets it apart from any other machine ever built. These ships are second to none, made in America by truly remarkable Americans."

Vice President Mike Pence, former governor of Indiana, served as the ceremony's keynote speaker. Today is the 100th day since he and President Donald Trump assumed office.

"He sent me here today on this historic occasion as a sign of his deep commitment to the Armed Forces of the United States of America, and to his commitment to make the strongest fighting force in the world even stronger still," Pence said of Trump. Speaking to the shipbuilders, he acknowledged their dedication and skill. "You have the gratitude of the commander in chief for your unwavering commitment to your country, your patriotism, your craftsmanship, and rest assured, President Trump will honor your commitment with historic investments in our national defense."

Indiana is the 16th submarine of the Virginia class and the sixth of the eight ship Block III construction contract. Virginia-class submarines, a class of nuclear-powered fast attack submarines, are designed for a broad spectrum of open-ocean and littoral missions to replace the Navy's Los Angeles-class submarines as they are retired. Virginia-class submarines incorporate dozens of new technologies and innovations that increase firepower, maneuverability and stealth, and significantly enhance their warfighting capabilities. These submarines are capable of supporting multiple mission packages and can operate at submerged speeds of more than 25 knots for months at a time.