a
Naval Aviation News - New Zealand, USA
New Zealand Looking to Replace its Six P-3K2 Orion MPA with Four Boeing P-8A Poseidon
The U.S. State Department has made a determination approving a possible Foreign Military Sale to New Zealand for P-8A aircraft and associated support. The estimated cost is $1.46 billion. The Defense Security Cooperation Agency delivered the required certification notifying Congress of this possible sale on April 27, 2017.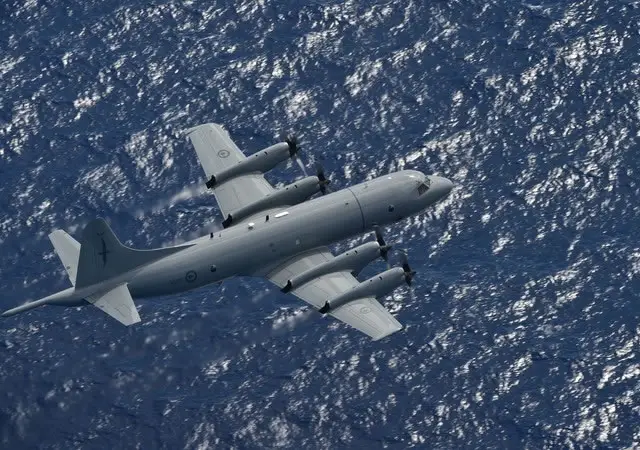 Four P-8A Poseidon are set to replace the six RNZAF P-3K2 Orion. Picture: New Zealand Defence Force

New Zealand has requested the potential sale of up to four (4) P-8A Patrol Aircraft. Each includes: commercial engines, Tactical Open Mission Software (TOMS), Electro-Optical (EO) and Infrared (IR) MX-20HD, AN/AAQ-2(V)1 Acoustic System, AN/APY-10 Radar, ALQ-240 Electronic Support Measures. Also included are eight (8) Multifunctional Information Distribution System Joint Tactical Radio System (MIDS JTRS); five (5) Guardian Laser Transmitter Assemblies (GLTA) for the AN/AAQ-24(V)N; five (5) System Processors for AN/AAQ-24(V)N; thirty (30) AN/AAR-54 Missile Warning Sensors for the AN/AAQ-24(V)N; ten (10) LN-251 with Embedded Global Positioning Systems (GPS)/Inertial Navigations Systems (EGIs); support equipment; operation support systems; maintenance trainer/classrooms; publications; software, engineering, and logistics technical assistance; foreign Liaison officer support, contractor engineering technical services; repair and return; transportation; aircraft ferry; and other associated training, support equipment and services. The total estimated cost is $1.46 billion.

The Government of New Zealand intends to use these defense articles and services to continue its Maritime Surveillance Aircraft (MSA) capability, following retirement of its P-3K maritime patrol aircraft.

New Zealand has procured and operated U.S. produced P-3 MSA for over 40 years, providing critical capabilities to NATO and coalition maritime operations. New Zealand has maintained a close MSA acquisition and sustainment relationship with the U.S. Navy over this period. The proposed sale will allow New Zealand to recapitalize, modernize and sustain its MSA capability for the next 30 years. As a long-time P-3 operator, New Zealand will have no difficulty transitioning its MSA force to the P-8A and absorbing these aircraft into its armed forces.

New Zealand signed a contract with Boeing last year to modernize its six P-3K2 Orion maritime patrol aircraft operated by No. 5 Squadron RNZAF. The Squadron is equipped with a total of six Orion aircraft, each having undergone various airframe and mission system upgrades. The P-3K2 provides airborne surveillance and reconnaissance of New Zealand's areas of economic interest, exclusive economic zone, the South Pacific, and the Southern Ocean including Antarctica in support of the Commission for the Conservation of Antarctic Marine Living Resources.