a
Naval Forces News - USA
U.S. Navy Scientists Develop Underwater Wireless Charger for UUVs
By Alex Snyder - Defense Media Activity
Having trouble finding a charging station for your hybrid or electric car on a long road trip? Try tasking an unmanned undersea vehicle to recharge itself at an underwater gas station. The UUVs the US Navy uses for underwater surveillance to detect mines and map the ocean floor must rely on operators to recharge batteries at a land base or a surface ship. Both methods expose the warfighter and impose limitations on remote autonomous operations.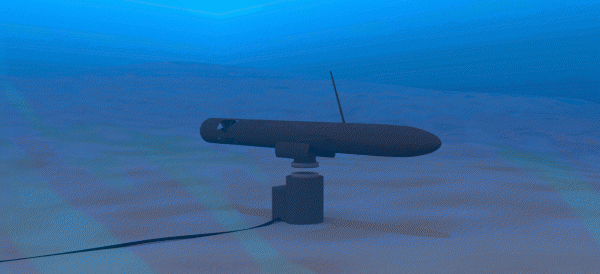 U.S. Navy scientists at SPAWAR Pacific are developing a way to recharge unmanned undersea vehicles (UUV)s using wireless technology. U.S. Navy illustration.

But thanks to scientists at Space and Naval Warfare Systems Center Pacific, that scenario may soon be a thing of the past, as they are developing a way to recharge UUVs using wireless technology.

"Unmanned and autonomous systems are used extensively for Navy missions and will continue to play a large role in future Navy and joint scenarios," said Dr. Alex Phipps, chief of the advanced integrated circuit technology branch at SSC Pacific. "While most of these systems are able to perform their mission without human interaction, limitations in the amount of power that can be stored place a limit on the overall system autonomy."
Video courtesy of SPAWAR Pacific
Wayne Liu, an SSC Pacific project manager developing wirelessly charged undersea and aerial platforms, initially demonstrated the submerged charging capability using his own phone several years ago as a proof-of-concept experiment. Several feet below the surface, his phone rested in a plastic bag on a charging pad. The demo was a success, as Liu left with a few more battery bars. Development of these systems has improved significantly since that time, and the researchers are now advocating for the creation of a guiding set of standards for these underwater wireless power transfer devices.

"This type of technology is going to widen the array of missions the Navy can use UUVs for," said Dr. Graham Sanborn, an engineer in Phipps' group. "Having a UUV that can travel long distances gathering intel from ports and areas of the world our surface ships and underwater craft typically can't go is going to increase the effectiveness of them. It's also going to make missions safer, because service members will no longer need to accompany the machine, potentially into harm's way. It's a safer, more cost-effective option that we're really excited about."