a
Naval Defense News - UK, South Korea, Philippines
Servowatch to supply IPMS capability for two HHI-built Frigates for Philippines Navy
Servowatch, a leading supplier of advanced integrated ship control systems, is very proud to announce they have again been selected by Hyundaito supply theirIntegrated Platform Management System (IPMS). This down select will see Servowatch partnering with Hyundai Electric to provide its IPMS for installation into the Philippine Navy's Future Frigate programme to be built in Hyundai's Ulsan facility; the largest shipyard in the world.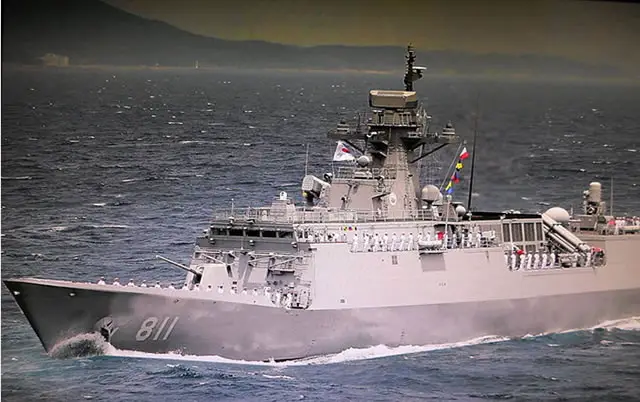 Hyundai HDF-3000 FFX-I Frigate is the basis for design of the Philippine Navy's vessels
The new frigates are expected to be a variant on Hyundai's own HDF-3000 FFX-I Multipurpose Frigate. According to specifications provided by Hyundai, the design features a length of 114m, a beam of 14m and a hull draught of 4m. The platform has a standard displacement of approximately 3,000 tonnes and can accommodate engines in combined diesel (CODAD) or gas (CODOG) machinery arrangements.

Servowatch Systems' scope of supply comprises an IPMS control and monitoring package for the vessels' propulsion plant, electric power plant, auxiliary/ancillary system. Battle Damage Control System (BDCS) and On-board Training System (OBTS) are also to be included in scope of IPMS.

"With vessels increasing in complexity while simultaneously reducing crew sizes, systems integration is key to ensuring the functionality of critical equipments. Servowatch has introduced its most powerful IPMS solution allowing more COTS (commercial off-the-shelf) product integration. It reduces platform cost, integration time and commissioning, whilst retaining the survivability and power of the original Servowatch product," says: Wayne Ross, Chief Executive Officer, Servowatch.

"We are delighted to have been down selected again to work with Hyundai in Korea, this time for their Philippine Frigate project. Not only are we lookingforward tobuilding on our growing relationship with Hyundai's own teams of experts to enhance the capability, service and support that Servowatch delivers to the Navy's around the world, we are also looking forward to further growing our relationship with the Royal Philippine's Navy."

"This second project win further cements our relationship with Hyundai and continues to demonstrate that Servowatch has what it takes to compete successfully in large scale naval projects," says Andrew Burns, Sales & Marketing Director, Servowatch.

The UK-headquartered company has invested heavily in the design and development of the next generation IPMS systems. Designed to commercial or military standards, principally for naval or larger complex commercial vessels, Servowatch offers a range of bespoke solutions to provide propulsion, electrical and auxiliary plant management from multifunction workstations with automation programmed into the system.