a
Naval Forces News - Russia
Russia's Northern Fleet to receive two polar stations in 2017 - Kotelny & Alexandra Land Islands
Two polar stations will be set up on Arctic islands for Russia's Northern Fleet this year, Northern Fleet Commander Vice-Admiral Nikolai Yevmenov said.
This map shows the location of the New Siberian Islands. New Siberian Islands usually refers to several island groups including the Anzhu Islands (including Kotelny), the Lyakhovsky Islands, and the De Long Islands in the Arctic Ocean between the Laptev Sea and the East Siberian Sea.

"The Arctic zone is being explored. Two polar stations will be set up on Kotelny Island and the Alexandra Land Island this year," Yevmenov said at an enlarged meeting of the Defense Ministry's board. According to the commander, the Northern Fleet has accomplished all assigned missions in 2016.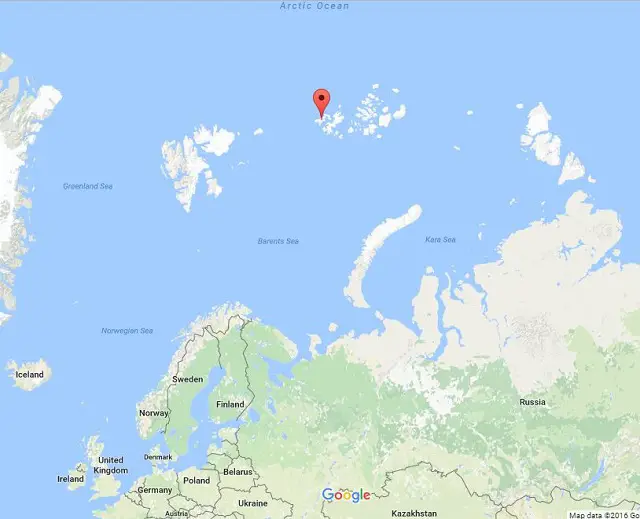 Location of Alexandra Land Island
"In 2016 , work has been carried out to provide the Arctic with all required supplies, explore it, prepare an aircraft carrier strike group for a long-distance voyage to the Mediterranean Sea and prepare our warships and submarines for missions," Yevmenov said.

Russian Kola Composite Flotilla Commander Vice-Admiral Oleg Golubev said that one of the ships had passed the biggest number of hours at sea, thus, breaking the record.

"The large antisubmarine warfare ship Vice-Admiral Kulakov has set a record, passing 294 days at sea over the year," Golubev said.



© Copyright 2017 TASS. All rights reserved. This material may not be published, broadcast, rewritten or redistributed.

New Russian military constructions on Island Alexandra Land in Franz Josef Archipelago