a
Naval Defense News - UK, USA
UK & US Signed Declaration Paving the Way for P-8A MPA Shared Logistics & Support Bases
UK Minister for Defence Procurement Harriett Baldwin signed a P-8A Poseidon maritime patrol aircraft (MPA) declaration with her United States counterpart, Deputy Secretary of Defense Bob Work to further strengthen the uniquely close defence relationship between the United Kingdom and the United States.

In 2019 the UK will receive delivery of its first Poseidon P-8A aircraft and both nations have committed to deepen their defence cooperation when operating in the North Atlantic region. Through seeking opportunities to share logistics and support bases and optimise the use of P-8A aircraft, particularly in Europe, the declaration should ensure increased value for money and operational effectiveness.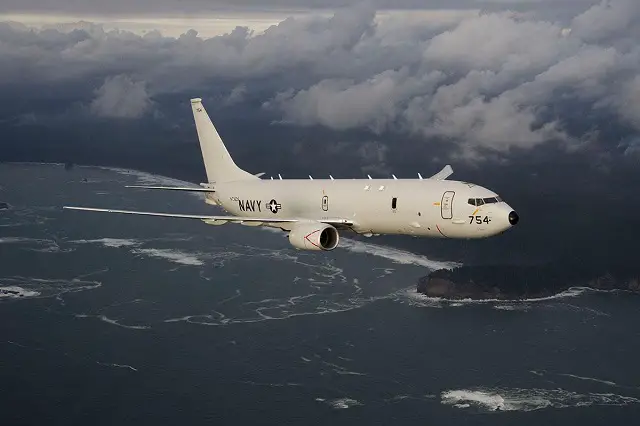 P-8A Poseidon MPA. US Navy picture.
As leading members of NATO, the UK and US are committed to the collective defence of each other and their Allies. We have also pledged to deepen defence cooperation, bilaterally and within the Alliance, to further improve the ability to operate together in exercises and operations.

The declaration provides a new opportunity to maximise value for money for the taxpayer and continue to strengthen UK-US interoperability and to pursue efficiencies in operations and support, including at RAF Lossiemouth in Scotland, where the P-8A will bring some 400+ jobs. The Department of Defense and Ministry of Defence plan to cooperate closely on operation of their P-8A aircraft in the North Atlantic to ensure a coherent approach to MPA activity.
Navy Recognition's video on the P-8A Poseidon during Dubai Air Show 2015
Based on Boeing's Next-Generation 737-800 commercial airplane, the P-8A offers advanced anti-submarine, anti-surface warfare and intelligence, surveillance and reconnaissance capabilities. The U.S. Navy has deployed four P-8A patrol squadrons since operations began in 2013. The Royal Australian Air Force just took delivery of its first P-8A while the Indian Navy have already several P-8I aircraft in operation. The United Kingdom has ordered 9 planes in July this year o be based in RAF Lossiemouth, Scotland. The aircraft will add to the UK's surveillance capabilities, including conducting anti-submarine and anti-surface warfare, search and rescue and intelligence gathering.
The P-8A can operate at long range from its operating base without refuelling and has the endurance to carry out high and low-level airborne maritime and overland surveillance for extended periods. This cutting-edge aircraft will also be able to conduct wide-area search of open ocean to locate small boats and drop rescue life-rafts and equipment to vessels and people in distress.