a
Naval Forces News - Germany
Video: German Navy's 1st F125 Frigate Baden-Württemberg Testing its 127mm & 27mm Gun Systems
The German Navy (Deutsche Marine) released a video showing the first F125 frigate testing its main and secondary naval gun systems off the coast off Heligoland (a small German archipelago in the North Sea). Viewers can see the "Baden-Württemberg" firing the Leonardo (formerly Oto Melara) 127/64 LW - Vulcano main gun as well as the Rheinmetall Defence MLG 27 remote weapon systems.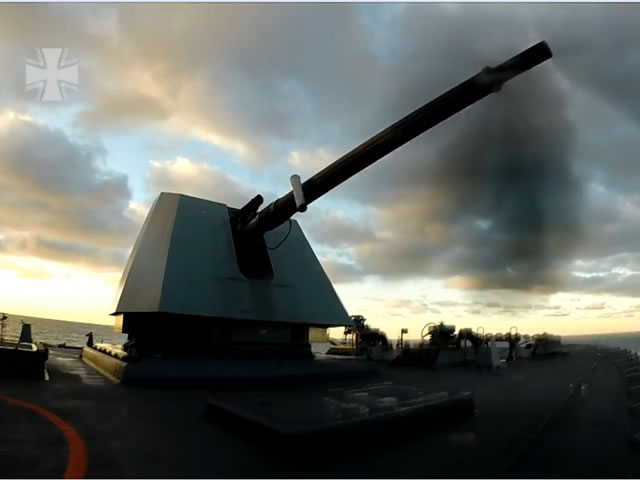 The F125 frigate "Baden-Württemberg" testing its 127/64 LW Vulcano naval gun system
(source: Bundeswehr video)
According to Leonardo, the 127/64 LW (light weight) Vulcano is a state of art medium caliber gun suitable for installation on large and medium size ships and intended for surface fire and naval gunfire support as main role and anti-aircraft fire as secondary role. The compactness of the gun feeding system makes possible the installation on narrow section crafts. The 127mm VULCANO ammunition family, is composed by Ballistic Extended Range (BER) and Guided Long Range (GLR) ammunition with different multifunctional fuses, sensor and final guidance that extend the range of the gun up to 100km.

According to Rheinmetall, MLG 27 is designed to provide point-defence protection for both sea- and land-based units. In its naval variant, this state-of-the-art 27mm weapon system is designed for layered ship self-defence and can engage air and surface targets, including high-speed, highly manoeuvrable watercraft and targets on shore. The MLG 27 provides reliable self-defence capabilities for counterterrorism, combating piracy and stopping smugglers. Short for "Marineleichtgeschütz 27mm" ("light naval gun"), the MLG27 is produced at the Rheinmetall Weapons and Munitions (RWM) Mauser plant in Oberndorf, a cradle of the German arms industry.

The F125-class frigates are built by ARGE F125 consortium, lead by ThyssenKrupp Marine Systems and supplemented by Blohm + Voss, Nordsweerke and Lurssen Werft. A total of four vessels will be built for the German Navy. The first F125 frigate started sea trials off the coast of Denmark in July last year.

Although the F125-class ships are frigates their displacement is much larger, closer to that of a destroyer, as it reaches 7,200 tonnes. They are built to replace the eight Bremen-class frigates, which entered service in the '80s, and carry out a wide range of missions, both combat and humanitarian.

Their crew is comprised on average of 150 sailors, although that can change depending on the mission. The vessels' main weapons are the Oto Melara 127/64 LW gun, 2 x remote-controlled 27 mm Rheinmetall MLG27 cannons, 5 x HITROLE naval turrets with 12.7 mm heavy machine guns, 8 x Boeing RGM-84 Harpoon missiles, 2 x Raytheon RIM-116 RAM CIWS systems and a series of non-lethal weapons.