a
Naval Industry News - Australia
First Royal Australian Navy Air Warfare Destroyer HMAS Hobart Starts Sea Acceptance Trials
The future Air Warfare Destroyer (AWD) Hobart this morning departed the wharf at Techport Australia to commence a second round of more advanced Sea Trials off the coast of South Australia. Known as 'Sea Acceptance Trials' they follow the successful completion of 'Builder Sea Trials' in September 2016 which tested Hobart's hull, propulsion and navigation systems.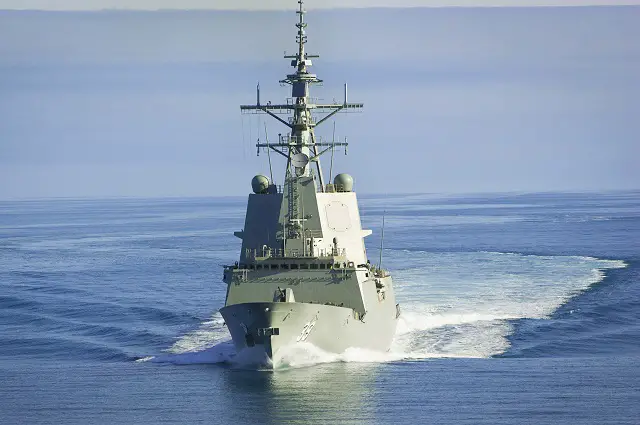 The first Air Warfare Destroyer HMAS Hobart
AWD Program Manager Commodore Craig Bourke said this second phase of more advanced trials will test Hobart's full suite of Mission Systems, involving both platform systems and combat systems.

"These trials are the culmination of all of the preceding design, production, activation, integration and test activities conducted on Hobart to date," Commodore Bourke said. "Sea Acceptance Trials are a significant milestone for the Project as it is the first time that the AWD will be tested as a complete Mission System."

In order to fully test the ship, Hobart will work closely with a range of fighter aircraft, surface ships and helicopters, as well as other civilian platforms in a range of simulated scenarios.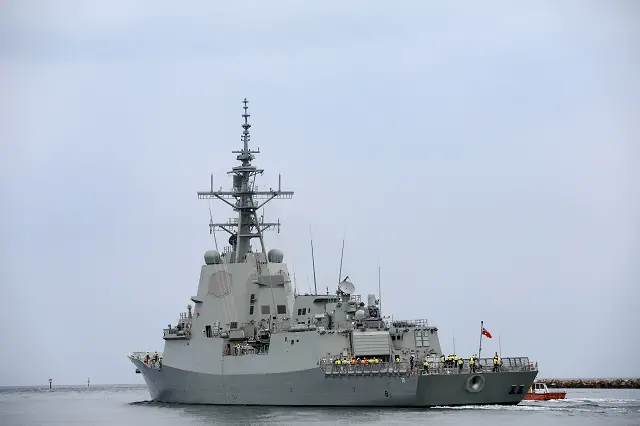 The first Air Warfare Destroyer HMAS Hobart starting sea acceptance trials
Raytheon Australia's Managing Director, Michael Ward noted the complexity and sophistication of the AWD combat system which will be tested during the trials.

"As the combat systems integrator for the AWD project, Raytheon Australia has applied its highly skilled Australian workforce of 350 architects, systems engineers and project managers to the AWD project over the last decade."

"Raytheon Australia is responsible for the integration of ten major subsystems, including the Aegis Weapon System, which is provided through Foreign Military Sales, and associated delivery of more than 3,500 major pieces of combat system equipment required to establish the warfighting capability of the AWD. This will contribute to making the AWD the most lethal and sophisticated warship ever operated by the Royal Australian Navy."

"The success of the combat system integration activity is a source of tremendous pride for Raytheon Australia. Not only have we performed admirably on this project but we have built for Australia a national asset in combat system integration," Mr. Ward said.

For ASC Shipbuilding CEO Mark Lamarre, these trials provide the formal testing and acceptance phase for the platform system.

"Sea Acceptance Trials further demonstrates the capacity of Australia's sovereign defence industry to build and integrate ships for our specific defence needs, and will prove this highly capable platform ready for delivery to Defence," Mr. Lamarre said.

AWD Alliance General Manager Paul Evans said the Alliance is looking forward to the successful completion of 'Sea Acceptance Trials' as a pre-requisite to enable the AWD Alliance to deliver Hobart to the Commonwealth in mid-2017.

"On delivery of our first Air Warfare Destroyer, the Royal Australian Navy will gain a new and potent capability it has never before possessed, and the most capable and lethal warship it has ever operated," Mr. Evans said.